With her wedding date set for December 17, model-actor Ravee Gupta is taking it easy with her work in 'Ravan'.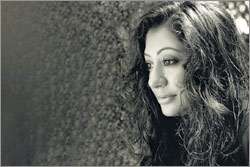 With her wedding date set for December 17, model-actor Ravee Gupta is taking it easy with her work in 'Ravan'.
For a girl as young and gorgeous as Ravee Gupta, it came as a surprise that she was essaying the role of Ravan's mother in 'Ravan' (Zee TV). Quiz her on that and she confesses "Oh, I was petrified too when I got the offer. Imagine playing a mother to a mythology hero. But then I listened to the storyline, which speaks of her younger days and her warrior-like image, and I was impressed. Also, there are very few scenes as the older woman. So I relented."
Much as the role is challenging to essay, Ravee can't help cribbing about the distance she has to travel for her shooting "The set is located in Umergaon which is a good four to five hours drive from Mumbai and it is located in the wilderness. It's very boring and depressing being away from the family especially now when I am looking forward to my wedding."
The only consolation is the fact that she has her actor father Rajendra Gupta for company. "He plays my father in the show too. This is the first time I am working with him and it's an experience just watching a veteran like him at work. But my dad is a cool man and never interferes in anyone's work."
With acting in her genes, was acting a foregone conclusion in her career options? "Far from it!a I was pathologically shy and under confident when I was younger. But like every girl, I wanted to be in Aishwarya Rai's shoes and wanted to win the beauty queen title. I started modelling for ads when in college and even enrolled for Miss India which gave me a lot of exposure to the fashion world. Modelling and doing videos was the next thing. And before I knew it, Ektaa Kapoor who is forever inviting models on her shows had selected me for a show. Infact, dad didn't even know I had started acting when I signed my first show 'Kaahin Kissi Roz'. But he sure was happy because he wanted me to be an actor," she reminisces.
Right now, however, work is the last thing on her mind "I am busy preparing for my wedding. My fiance Manoj Bidwai is an actor himself and we met through common friends. Before we knew it, we had fallen in love and that was a surprise to me. I always considered myself pretty hoity-toity for the simple soul that he is. But love can play strange games," she smiles.
The marriage is straight out of a dream. "It's a sunset wedding at a beautiful beach in Goa. I am a nature lover and this is just what I wanted. Of course, there will be the sangeet and the pheras but that will be followed with a cocktail party," she says dreamily.