What is it like for an actor to stay away from the cameras and face it after 33 years? Yogesh Pawar meets the irrepressible performer Chitra Palekar, and comes away impressed.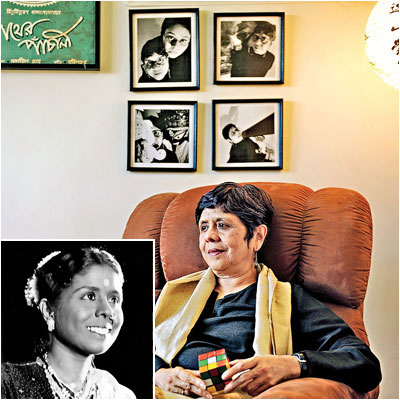 I should've been a lemonade wholesaler considering what I've done with the many lemons life kept hurling at me," laughs theatre-person, film-maker and actor Chitra Palekar. A tinge of sadness cuts across her cackle as she crosses her legs and settles on the couch. Hurriedly sipping soup in her spartan pista-hued Bandra home. "There's so much to do," is a refrain with the 66-year-old whose animated talk exudes the enthusiasm of a teenager.
Playing down what is being called her comeback to acting after 33 years, she says, "I am no Madhuri Dixit or Sridevi for it to be a come-back. Yes, I faced the camera after a long break. Right from doing theatre when only 19, I see most of my work as an extension of what I've done. In that sense I don't see myself as having gone away anywhere to make a comeback." The reason she chose Happy Journey was Sachin Kundalkar of Aiyyaa fame, she says of the National award winning film maker. "I really like his work. His passion comes through."
She is all praise for Kundalkar's team and his co-stars Atul Kulkarni and Priya Bapat. About the two scenes she shot in Pune for the film, she says, "Any doubts I had about the younger generation and its supposed lack of dedication or commitment were shattered." She admits though to a fleeting moment of worry just before the camera rolled. "I kept worrying whether I'll forget my lines. But once we started shooting I was okay."
But isn't this film a far cry for the Dharwad, Karnataka-born Palekar who's been swamped with critical appreciation for her work in theatre? "I don't think so. Today my work straddles a space with skills from all across right from my education. Even if we don't see them, there are linkages as nothing is exclusive of the other," she points out.
Back in school she wanted to a career in sports and was active on the playground, even representing the state in table tennis, but a health complication and heart surgery at 19, cut that dream short. Instead of moping, she dove into the world of theorems, theories and avant-garde theatre in 1967. It was these initial forays into experimental theatre while graduating in economics and mathematics that plunged her headlong into some of the most legendary plays like Yayati, Nagamandal and Devyani Ka Kya Karein.
While doing theatre she met her JJ school of art pass-out ex-husband Amol Palekar who was with Bank of India and dabbled in painting in his spare time. "I was thinking of pursuing teaching when Amol began acting in films in 1974 (Rajnigandha). Till 1981 when we decided to make a film and everything changed."
The couple were toying with various scripts till one inspired by the Manwat murder case of 1974 by Vijay Tendulkar gripped them. Five small girls about ten years of age, a year-old infant and four women in their mid-30s were found murdered between November 14, 1972, and January 4, 1974, in a tribal village called Manwat, Pune in Maharashtra. The murders in which the victim's private parts were gouged out to extract blood for a tantric ritual had led to outrage across the state, inspiring Tendulkar to write a script.
"We knew Amol would play the corrupt Mukutrao Shinde the influential trader and smuggler but couldn't think of who'll play his mistress Ruhi" she recounts. "The wife has children, marriage and position in the family but middle-aged, Ruhi has nothing. Her master's eyes are already wandering to other 'conquests' and she's desperate to be pregnant. To appease spirits and facilitate conception, she initiates the ritual murders of young virgins. Since it promises discovery of hidden wealth, a greedy Mukutrao agrees." It was Tendulkar who suggested Chitra's name to play Ruhi in the fast-moving, confidently edited, realism-suspense mix which won a special Jury Award at Nantes, France.
"I got busy with all other aspects of filmmaking like scripting and production till I'd familarised with all aspects of the medium," she remembers. In succession she wrote the screenplay and dialogues for Thodasa Roomani Ho Jaayen (1990), Bangarwadi (1995), Daayra (1996), Kairee (1999), Kal Ka Aadmi and Dhyaasparva (2001) before her directorial debut with the critically acclaimed Nandita Das starrer Maati Maay (2006).
Her 32-year-old marriage came to an end in 2000. "When an association that long ends, obviously it leaves a lot of pain and scars. I have moved on and wouldn't like to look back," she says but admits, "I want to work with women who feel stifled but continue to be stuck in miserable marriages. They need to get out and reconnect with life and living, like I have and celebrate who they are."
In fact the social side to her comes across in her work for the LGBT community. When her daughter came out to her in the early 90s, she was shocked not with her being a lesbian, but that she didn't confide in her for 4-5 years. "She must have felt so alone. That was my concern. Of course I didn't know anything about the LGBT community and people weren't as open about the issue as they are now. You know she helped me by giving me books which talked about parents of other lesbians and gays." The equal rights activist for is unhappy about the way the Supreme Court re-criminalised homosexuality. "Which parent would like to see their child being called a criminal? That's the view the Supreme Court ought to have taken. We will continue to fight this injustice."
On her future plans she reveals a script revolving around a mother-daughter relationship in crisis being ready. "I'm looking for someone to fund it." But what about acting in other films, even mainstream. "If someone makes a perfectly enjoyable potboiler like Mr India, why not?" she laughs.