The actor, who will be seen in formal shirts and oversized glasses in Jhootha Hi Sahi, said people will love his adorable loser character in the film.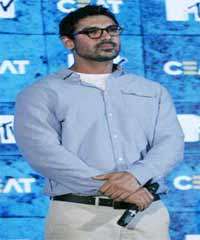 He is often described as one of the most good-looking actors in the Hindi film industry and that is why John Abraham's physicality sometimes overshadows his acting, but the star says he is trying to change that with films like Jhootha Hi Sahi.
"Somehow my physicality takes over the roles that I do," Abraham told PTI in an interview. "I have no problem with it as long as people like my roles. But as an actor I don't depend on my looks. I am taking up roles where the focus is less on my physique and more on my performances."
That's what made Abraham opt for the role of Siddharth in Abbas Tyrewala's film where the actor will be seen in formal shirts and oversized glasses, a complete change from the hunk he played in Dostana.
"Abbas told me, 'John, I want you to be Sid in the film'. Sid is a guy who has been fat in his childhood, stammers in front of beautiful girls, and is not stylish despite having a neatness to his appearance," the actor said.
Abraham plays an adorable loser in the film. Despite being a fitness freak, he stopped going to the gym for eight months to prepare for the role.
"I was also told to stop gyming for eight months while I shot the film," the actor said. "Initially I was not sure, but now that I have seen the film, I am happy with the results. I did not find John onscreen, it was Sid all along. People are going to love this adorable character."
Jhootha Hi Sahi is Tyrewala's second film after the success of rom-com Jaane Tu... Yaa Jaane Naa and stars his wife Pakhi opposite Abraham. Pakhi is also the scriptwriter of the movie, which hits theatres on October 22.
The 37-year-old star had signed Jhootha Hi Sahi even before the release of Dostana and New York and he did not take up any new work despite the success of the two films.
Asked about the decision, the actor said, "I am not insecure or apprehensive when I don't have a project.
"The apprehensions come when I am signing a project because that way you are committing to something and you want it to be right. I did not sign new films because I wanted to give my all to this film. Besides, I did not want to do a movie for the heck of doing it."
The actor has become increasingly choosy over the years and says he wants to keep it that way.
"One film a year is good enough unless you have something exciting," Abraham said.
He is currently working on Nishikant Kamat's untitled project, a remake of the Tamil hit Kaaka Kaaka.
Abraham will play a police officer in the film and has been hitting the gym for some serious workouts to get into the skin of the character, which was portrayed by Suriya in the Tamil version.
Kamat is best known for his critically acclaimed movie Mumbai Meri Jaan. Asin will be the female lead in the film.
"It is again a very challenging role and I am working hard on it. Meanwhile, Dostana 2 is all set to begin shooting," Abraham said.