Says Abhishek Bachchan, who will flag off the DNA ICAN women's marathon tomorrow morning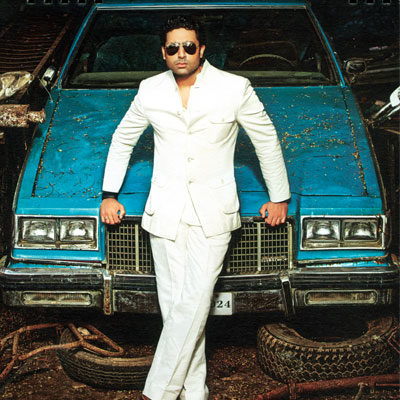 Abhishek Bachchan doesn't have six-pack abs. And he doesn't want them. He isn't the kind of hero who bares his chest, While every other actor is shedding his shirt or wearing transparent kurtas. There is something nice and old world about that. Do you remember Dilip Kumar, Raj Kapoor or Dev Anand baring their chests? Acting is more than that. Abhi is less about gymming and more about being sporty. He loves soccer and indulges in a game every Sunday with a gang of like-minded friends. He prefers to get muddy knees while playing basketball instead of pumping iron inside a gym and even now doesn't mind getting his knees dirty over a rugged game of soccer in a muddy field.
He makes a cup of cappucino for us as he tells us why fitness is so important in today's times, especially for women.
"I don't run a lot because of certain injuries during my school years when I was into sports. I do run a bit. I have always been envious of marathon runners because I can't run long distances. I have always run shorter distances but running is very therapeutic. Everybody knows that there are endorphins and certain enzymes secreted after a good run. It's called a runner's high. At an X period of time you get this high and we have always been told whenever you are in a bad mood, you should go for a run to sort your head out. so any kind of cardio vascular activity is therapeutic as far as I am concerned. I incorporate a lot of running in my daily workout. I don't do long-distance running but 5-10 minutes sprinting. Running is a fantastic method and exercise to lose weight.
I have always been fitness-conscious. I used to play a lot of sports in school like basketball and skiing. It's been a part of my life. Fitness is leading a healthy lifestyle. There's a huge misconception that having these bulging muscles is being fit — it isn't. It is being able to lead a healthy and happy lifestyle. I know a lot of professional body builders who probably won't be as fit as a marathon runner. But there are different levels and requirements for different sports. The different sets of muscles that are used vary according to their sport. A footballer will use his lower body more than his upper body whereas a basketball player will focus more on dynamics training and full body workout.
Fitness also doesn't mean these eight-pack abs. Yes, it's wonderful if you have them but that's not what it is about. We have many actors in the film industry who are immensely fit but do not necessarily have a body. My fitness mantra comprise three parts — good rest, good diet and good training. It's like a tripod and you can't do without one of the three. Your body on average needs seven to nine hours of sleep though eight hours is ideal. If you are training heavily your body needs that kind of time to rebuild and recuperate. Your diet is equally important. Eat healthy and wisely.We have good facilities which ensures we can maintain our diet anywhere in the world even if we are shooting. Suniel Shetty used to tell me when we were shooting for Refugee — breakfast like a king, lunch like a prince and dine like a pauper, and you will never go wrong. Having a healthy diet of proteins, carbs and fats is important. There are certain food groups which you require every day. You should meet a dietician to know what is required in healthy doses and eat many times a day.
And then obviously your training programme. I have a trainer. I keep changing my workouts and training programme every week because the body adapts very fast. If you workout in the same way for weeks, your body gets used to it. You need to continuously shock your body and muscles for it to shape up. I always keep track of any new machine that come out as sports science has grown by leaps and bounds in the last 20 years. The kind of equipment, research and technology that is out there is amazing. These things change every six months and that's something I pay a lot of attention to.
Fitness is immensely important to women as it should be for men. Women are as important as men. If you are a mother, I challenge any husband to spend a day with their wives and doing what their wives do, taking care of their child/children. They probably won't be able to manage. It's very tiring. It's very important for women to pay attention to their health because if you see between men and women, it's women who go through a huge physical transformation throughout their lives. Men don't give birth. Giving birth is a huge thing in a woman's life because physically her body changes so this is more important reason to stay healthy. After that you will be nursing and taking care of your child. I think women taking care of their health is of paramount importance.
I would like to tell the women running at the DNA iCan Women's Half Marathon: Stay inspired! That's one of the most difficult things to do when you are running long distances. Keep your eye on the goal and just go for it! It's a great cause and event. I wish them all the best and I hope that each and every one of them finishes and manages to finish."
—As told to Upala KBR