Zarina Wahab talks about her show, marriage and actor daughter Sanna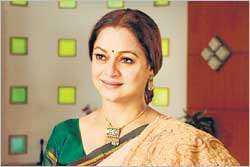 Zarina Wahab talks about her show, marriage and actor daughter Sanna
Though 'Tumhari Disha' (Zee) has taken a 25-year-leap, actor Zarina Wahab (Suhasini) is still part of this family drama. The ever-smiling actor says, "My co-actors call me 'positive energy'. It's fun to work with the bubbly new generation."
But Zarina albeit has set her own rules. She says, "I don't shoot after 7 pm. I have no problems with the money I'm paid but I don't want to work late." She sums up her acting skills as, "bad with lines but good with expressions."
In the 70s, Zarina Wahab was the face of meaningful cinema with films like 'Chitchor' and 'Gharonda'. But she tossed it all away when she married actor Aditya Pancholi. Doing sporadic films and TV shows, it was home and hearth that became her fervour.
She says, "I was married to the kitchen. I enjoyed learning to cook and even purchasing the grocery."
Playing mother to Sanna and Sooraj, the sherry-eyed actor recalls, "I have been a friend to them. I never handed them over to servants. I'd even take them for ghoda gadi rides just to enjoy the expression on their faces."
Now that Sanna is debuting in films, what are her dreams for her? Zarina says, "I cannot dream for her. I can only guide her. But dignity and discipline eventually ensure a long run." She adds, "When I leave my house for work, I don't do it as a star but as a worker."
Her marriage has weathered many a storm. Does a star wife have to put in that extra bit to make it work? "I have seen my parents happy together. I'm not from a broken family. Every wife has to have tolerance. Instead of cribbing I try to correct myself," she reasons.
An eternal optimist, Zarina confesses, "I've a short memory for bad things. It's not that I don't have problems, but I sail through them."