...Says chef David Rocco as he got hooked to biryani on his trip to India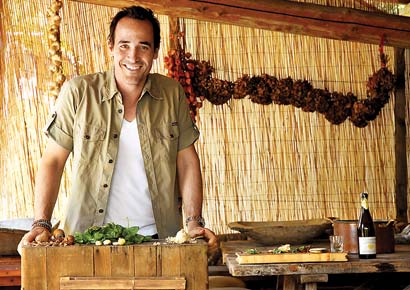 His journeys have taken viewers into home kitchens, restaurants and farms to cook with the mammas, nonnas and chefs who make simple, honest, rustic Italian delights. And soon Chef David Rocco will be stepping into Indian kitchens to explore a world of spices.
"Cooking is a primal thing — we've grown up seeing our mothers in the kitchen — and we are drawn to the simplicity of dishes that have been passed down through generations. For me, cooking is a labour of love and passion, there was no 'aha' moment, when I realised I wanted to cook," he says.
David recently spent three-and-a-half weeks in India, visiting the cities where he will be shooting his new show from January. "You always hear about the cliched dishes, in any part of the world, but there is always so much more to experience in any cuisine," he adds. He's not a breakfast person he says, but couldn't resist indulging in the regional breakfast favourites — be it the South Indian dosas with chutney or the heavier kachoris and spicy bhurjis in Jaipur. It seems however that David is now addicted to biryani.
"I just can't stop eating all these carbs," he says.
After penning two cookbooks, David will soon be working on a third which will continue his culinary journey and include his experience of cooking in India as well. He brings a relaxed and inspired approach to the kitchen, cooking beautiful, simple, and rustic dishes that anyone can master, focusing on casual Italian cooking. David shares a simple recipe that can help non-cookers delicately step into the world of food.