the filmmaker reveals that she is ready to pay any price for her love for films, but refuses to make room for any third-party interference.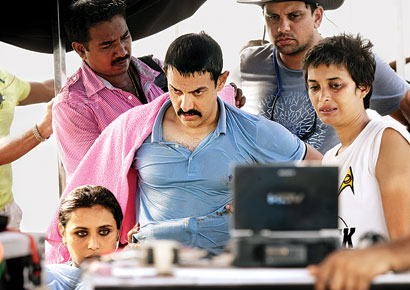 Filmmaker Reema Kagti is just one-film old, yet she managed to rope in Bollywood biggies Aamir Khan, Kareena Kapoor and Rani Mukerji for her second film Talaash. Her years as an assistant director and then scriptwriter for Zindagi Na Milegi Dobara stood her in good stead and helped her overcome the hurdles she faced while scoring her second outing in Bollywood. Here, she spills the beans on her rollercoaster ride in the industry...
How did your journey as a filmmaker begin?
I started out as a film buff. By the time I was eight, I used to write short stories and plays. It was in my teens when I was watching Salaam Bombay, and I consciously thought that I want to do this. I bunked school often to go and watch the film. I joined a film club during college that showed films that I otherwise didn't have access to. That was the time when I got obsessed with cinema and I knew that I had never felt so passionately about anything in my whole life as I felt about films.
Your first film, Honeymoon Travels Pvt Ltd had a lot of sub-plots and interweaved different emotions and layers...
I think films should involve people and they should not be just watching films. As a director I have camera, costumes, sets, sounds as tools at my disposal to make people feel differently. Also, I feel that adding layers to a story will lend itself to a better film too as the audience has a lot more to take home that just what can be grasped at face value.
It's been five years since your debut film. Why this long gap?
I have been trying to make a film. There was Talaash and another film that I had and it just took that much time to take things off the ground. We had a bit of a problem casting it.
Initially Shah Rukh Khan was approached, and then Aamir was roped in to play the lead, were you disappointed?
Aamir was destined to do the film because he is the one who saw something in the script and ultimately agreed to do it. So when you have someone like Aamir coming in, it is a sure shot way of getting the film off the ground. Regardless of who I had in mind, I know that I have a dream cast.
There was a tiff with the censor board, would you like to elaborate on that?
There was a directive from the censor board that we have to add anti-smoking tickers while the film is on. As a filmmaker I think this is a travesty and something that the entire film industry should stand up against. I am personally going to do everything possible and even take legal recourse. I think this is a very ineffectual and hypocritical stand that the government is taking.
The government should take some real action like ban smoking rather than making the filmmakers a soft target. As a filmmaker it is my job to reflect reality. And whether you like it or not, smoking is a reality that exists. A kid can buy a cigarette at any nook and corner. I am happy to suffer for my art but not due to third-party interference!