...says Sonakshi Sinha, who is happy doing masala films; loves roles that give her an opportunity to sing and dance.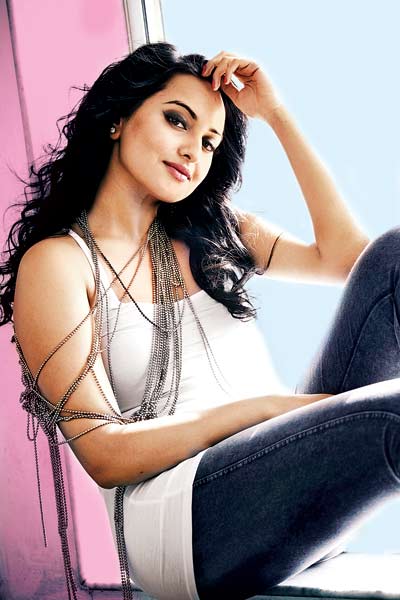 With three Rs100-crore films to your credit, you must be feeling
on top of the world?
It feels great. Especially with Son of Sardaar because of the kind of difficulties we went through before and during the release — ­­the negativity that surrounded it. We have surpassed all that and emerged victorious. It's a different feeling altogether. Films before this (Dabangg and Rowdy Rathore) hadn't faced these issues. The fact that Son of Sardaar crossed Rs100 crores on Guru Nanak Jayanti makes it even more special.
Were you anxious when all this was going on?
No, we were confident about the product. While dubbing for the film I didn't know whether to laugh or dub. We were getting the right reaction from the people who had seen them. But yes, it had bad hiccups. However, I wasn't involved in it because it was between two production houses and two seniors. Of course, I didn't want my colleagues to go through that.
You have worked with three superstars Salman Khan, Akshay
Kumar and Ajay Devgn. How different is it working with them?
It's amazing working with all of them, that's the common part. However, the three have different personas and different things to offer. Salman is very laidback, chilled out, he doesn't take his stardom too seriously despite the hysteria around him.
Akshay is very grounded. He's a child at heart, jovial and talks to everyone nicely. You learn humility from such a big star. As for Ajay, although he comes across as a serious person, he has his funny moments. However, while working he is very serious and
involved in the whole process.
Since the time you have entered the industry, there has been talk about you reminding people of yesteryear heroines. How do you relate to that?
I know, I guess it's because of the kind of roles and films I am doing. They are masala films with action, comedy and romance, something that movies used to have earlier. That whole era is back. I am at the right place at the right time. I love roles that give me an opportunity to sing and dance. I am happy to have been appreciated for my look and take it as a compliment.
The only film that didn't work for you is Joker. Do you regret
being a part of it?
No, absolutely not. Joker was the second film I signed after Dabangg and it opened a lot of avenues for me. It was during the shooting of Joker that Akshay approached me for Rowdy Rathore and I grabbed it. Even Ajay offered me Son of Sardaar during that time. Some films work, some don't — I don't sit and dwell on it. I move on.