Be it Hindi, Tamil or Telugu films, Kajal Aggarwal has her pick of roles today but instead of staying contented the actor is hungry for more roles as After Hrs finds out.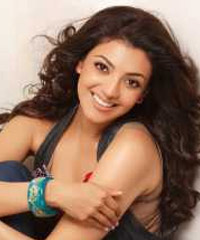 Kajal Aggarwal comes across just like the characters she plays in her films — perky and infectiously enthusiastic. But then, the actor has a lot of reasons to be cheerful about.
With back-to-back hits in the Vijay-starrer Thuppaki and the Telugu blockbuster, Naayak starring Ram Charan Teja, 2013 has kicked off to a good start for her. And Kajal agrees with the observation.
"Of course! With Thuppaki and Naayak proving hits, I couldn't have asked for more than this," she says. "Now I am looking forward to more of 2013 and want to see how it unfolds for me."
Talking about what she's got to look forward to, the movie in immediate focus is Special Chabbis that has her sharing screen space with Akshay Kumar. As the only female actor in the entire movie directed by Neeraj Pandey too, we'll say it's a role any actor would covet.
Quiz her if she had to audition for the role and she says, "I didn't have to go through any audition. Neeraj had watched Singham and thought that I looked sweet, bholi-bhali and fit the role (of Priya Chavan, a teacher)."
Shift tacks to talking about the movie's director and the actor gets quite articulate. "I'd watched A Wednesday and loved it. Neeraj is the only Hindi film director whose movie has been picked up by Al Pacino for a remake, and no one gets to work with a National Award winning director every day. He is a focussed, hardworking director and knows what he wants from you," she elaborates.
Coming back to her role, there's been quite the buzz about how she's been the only female actor among a 26 plus-strong-male cast.
Commenting on the working experience with an all-male cast she says, "I don't have too many scenes with the other cast members. I only share screenspace with Akshay Kumar and Anupam Kher."
Opening up a bit more, she goes on, "You know I grew up watching Akshay Kumar's movies. I enjoyed watching them and working with him was just as lovely. And what more can you say about Anupam Kher than the fact that he is an acting institution in himself. Shooting for the movie has been a wonderful learning experience."
So, does she hope Special Chabbis will be a gamechanger for her, in terms of getting people to take her as a serious actor? Kajal shrugs it off.
"Frankly, I am not strategising or planning how my career goes so I am not looking at this role as any gamechanger. All that I am sure of is I know the movie will do well; it is a well-made movie. Now, if it does well for my career, then all the more better," she matter-of-factly notes.
After Special Chabbis, the pretty actor has quite a few interesting projects including Badshah opposite Junior NTR, a cameo opposite Allu Arjun for Yevadu, a movie with Karthi (All In All Azhagu Raja) and another opposite Vijay (Jilla). With such an enviable roster, we ask if she's at a stage where she can be picky about her roles now? Pat comes the reply,
"Every actor is greedy when it comes to roles he/she wants to do. I want to do films that are both nice and easy and those where I have a substantial role." So, between a mass-y movie and a crossover film, which one would she pick today, we prod and her easy answer is, "I'd do both. I am greedy, remember?"