Govinda aka Chi Chi who is all set to release a film produced by his home production, Abhinay Chakra in August-end, danced with and addressed fans in the city at Seasons Mall on Sunday.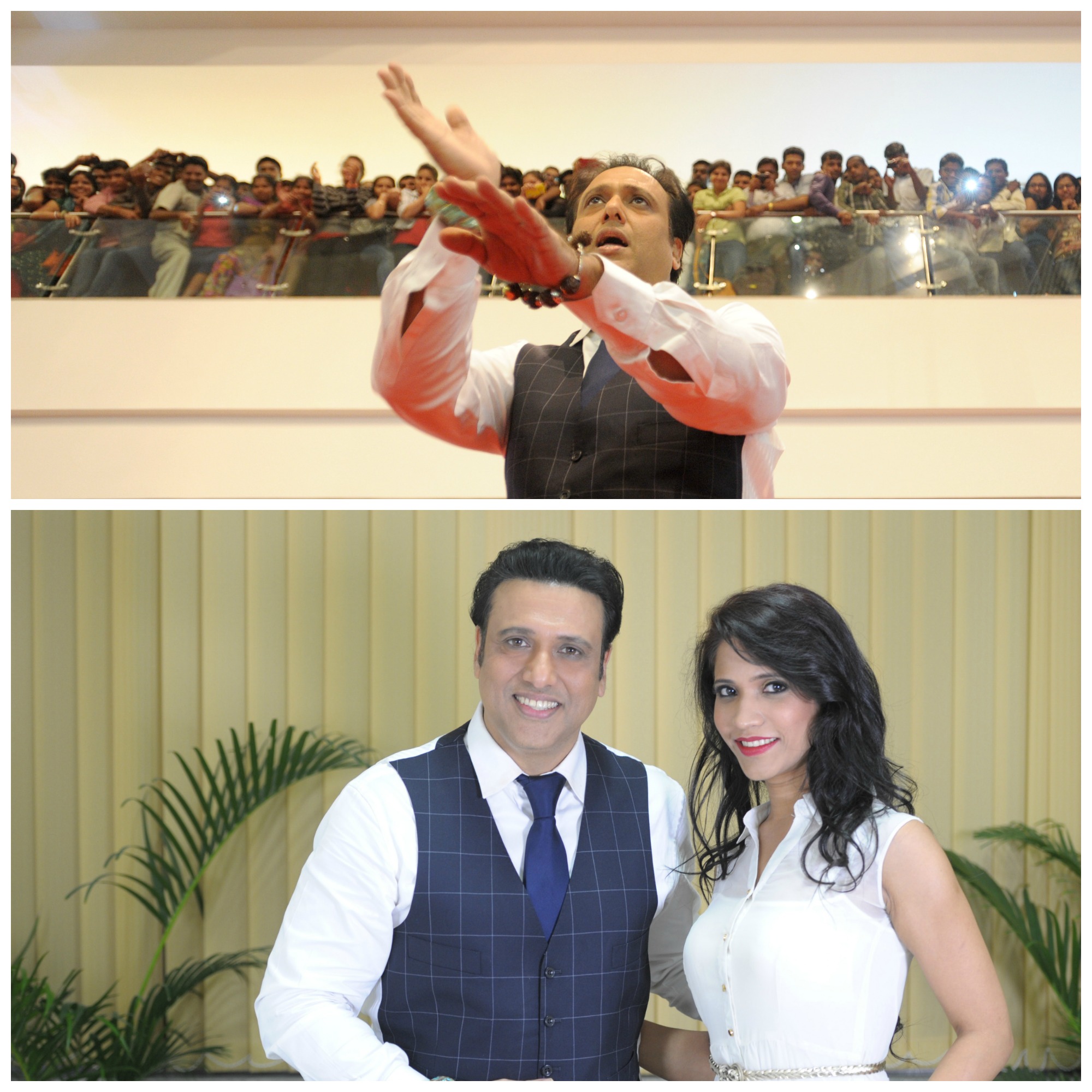 He walked onto the stage to the thunderous applause and cheering of hundreds of fans. Dressed traditionally, but always stylishly, this time in black and white attire, Govinda danced alongside a popular dance troupe to his most popular numbers. Shaking hands with his fans, dancing for them and interacting with him, Govinda more than returned the love he got from the crowd.
Accompanying him was ex-Mrs India International, Richa Sharma from Kolkata, who has made her debut in the film as Govinda's leading lady. Speaking about his new co-star, Govinda said, "Richa was very easy to work with and it did not feel like she was working in films for the first time". Returning back his compliment Richa said, "Govinda is a gem of a person. I did not even think that I could pursue acting as a career till he showed confidence in me. I was well-settled in my modelling career till he approached me with the script".
This is Govinda's second home production after almost seven years and he is extremely excited about it and hopes that his fans appreciate the movie just as much he did when he read the script. Addressing the crowd at the mall he said, "It is very heart-warming to see so many people gathered here for me and I just hope that you'll gather in the same numbers in the theatres on August 29 too."
Shot in a record time of 29 days, the movie sees Govinda in a lead role, after a long time. He expressed his content and said, "After a very long time, I will be seen in a lead role again. After my comeback with Bhagam Bhag, I have done several supporting roles, even acted as a villain and done guest appearance but now I am more than back." He has signed a couple of more films but will begin work on them only after the release of Abhinay Chakra. When asked about the story of the film and why he decided that this is the script he wanted to re-return with he said, "I play an honest-to-God police inspector in the film who has very strong principles and ideals. How the inspector manages to form a bubble around him for his safety and yet get around doing his job is what the film is about". He also added that the film is very light and at the same time has important topics that it highlights.
Commenting on his daughter, Narmmadaa following his footsteps into the film industry Govinda said, "It's her debut and she should be the one talking about it, not me. Even so I wish her the best for every project she takes up and wish that the way people have loved and appreciated me, they will appreciate her as well." He also said that there is absolutely no pressure on her and that she has to decide her own path. Abhinay Chakra is directed by Deepankar Senapati and also stars Makarand Deshpande, Harish Kumar, Ashutosh Rana and Murali Sharma in supporting roles.