Dystopian shows are the rage right now. All things in which man's survival, and basically his humanity are questioned, works well with TV audiences. So AMC has 'The Walking Dead', TNT has 'Fallen Skies', The CW has 'The 100', and 'The Leftovers' is HBO's answer to all these shows.
This new HBO drama series created by Damon Lindelof, of 'Lost' fame, will focus on a mystery driven plot and is based off of Tom Perrotta's bestselling novel of the same name. The Leftovers doesn't seem like your run of the mill 'survival story after the apocalypse' show, it's quite an original look at the Biblical Rapture.
The story will be set in a small New York suburb, focusing on the residents of the fictional town of Mapleton, whose lives are suddenly shaken by a global event dubbed "The Sudden Departure." The plot will jump to 3 years after the event in which 140 million people disappeared without a trace. The series will focus on how a global event can affect people on every level, and can turn faith into cynicism, paranoia, madness or cult-like fanaticism.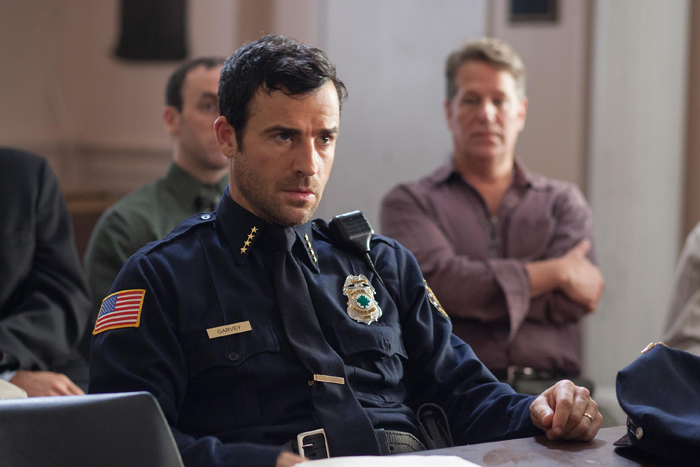 The Garvey family will take centre stage, with most of the plot-lines revolving around Kevin Garvey (Justin Theroux), the town's beleaguered chief of police and father of two, who tries to maintain some semblance of normalcy when the notion no longer applies. While Kevin and his rebellious daughter, Jill (Margaret Qualley), try to go back to the way things used to be, Kevin's son, Tom (Chris Zylka), sees the event as a wakeup call to take action. At the same time, Kevin is faced with the conflict between the townspeople of Mapleton and the Guilty Remnant, a mysterious cult-like group that seems to offer an escape for traumatized residents.
In addition to Theroux, Amy Brenneman, Chris Eccleston, Liv Tyler, and others round up the supporting cast.
Here are the players:
Kevin Garvey (Justin Theroux) - Kevin's struggling. To keep his family together, to keep his town from descending into chaos, and to keep himself in control. He's a husband and a father and a Chief of Police, but the tighter he tries to keep a grip on it all, the more everything seems to slip through his fingers.
Laurie Garvey (Amy Brenneman) - For most of her life, Laurie was the strong one. Smart, capable, compassionate, she raised two kids while maintaining a successful career. But when the Departure changed everything, it changed everything. And all she could do was surrender.
Matt Jamison (Chris Eccleston) - Unlike most people after that fateful October 14th, Reverend Jamison never lost his faith. He knows exactly what the Departure was and what it wasn't. All he needs now is people to believe him.
Meg (Liv Tyler) - Meg's got a picturesque house and a handsome fiancé, but something's still not right. And she'll do whatever it takes to figure out what that is and how to make it go away.
Tom Garvey (Chris Zylka) - After the Departure, Kevin's son Tom ditched college, broke contact with his family, and went searching for something to believe in. What he found was Holy Wayne, a powerful prophet, and Christine, a girl he's vowed to protect above all else.
Jill Garvey (Margaret Qualley) - Adolescence is difficult under normal circumstances, but post-departure… Kevin's 17-year-old daughter is having a hell of a time navigating high school, boys, a fractured family, and a father who's doing his best but still screwing up. There's only one thing to do, really, and that's pretend not to care. And then maybe, one day, she really won't.
Nora Durst (Carrie Coon) - Nora is something of a local celebrity, but for all the wrong reasons - She's the only resident of Mapleton who lost her entire family in the Departure. Having survived the impossibly tragic, she still manages to wake up each day and put one foot in front of the other – though who the hell knows where she's going.
Aimee (Emily Meade) - Aimee is confident and unpredictable, which in a teenager is both admirable and highly dangerous. She's the devil on Jill's shoulder and the big sister she never had. But she's also searching for a family of her own.
Lucy Warburton (Amanda Warren) - The mayor of Mapleton. Lucy's whip-smart and all-business, which proves helpful to Kevin —as long as she's on his side. When she's not…
Patti Levin (Ann Dowd) - Patti's the mysterious leader of the Guilty Remnant. Which is…well, no one's exactly sure. It sure seems like a cult. And it's got a rapidly growing chapter in Mapleton, where Patti's no-nonsense attitude helps her orchestrate the group's increasingly strange behavior.
Dean (Michael Gaston) - Dean is a mystery even to those who know him. He's a gun-toting, tobacco chewing man of few words, and it's not immediately clear whether he'll be an ally to Kevin or a force to be reckoned with.
Scott Frost (Charlie Carver) & Adam Frost (Max Carver) - Goofy and sweet, the Frost twins seem largely unbothered by what happened three years ago — or maybe they'd just rather get high and play ping pong than think about it.
Christine (Annie Q) - Christine's a sweet girl at heart, but not afraid to use what she has to get what she wants. Above all, she's a devoted disciple of Wayne, which either makes her woefully naïve or the smartest girl in the room.
The 10 episode first season is set to premier on HBO Defined on Sunday, July 6 at 7:45 pm