Here we are living in the era of new-age cinema, where the process of both film-making and viewing is undergoing constant changes. After Hrs catches up with film-maker, Sandeep Mohan whose micro-budget films and a brand new concept — The Great Indian Travelling Cinema - intend to add to the change...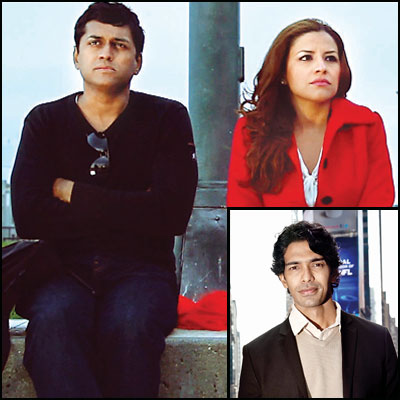 He began his movie career as an assistant director to Sanjay Leela Bhansali on Hum Dil De Chuke Sanam, before moving on to advertising where he wrote scripts for the Indian television. But there was a point when Sandeep Mohan, an independent-spirited screenwriter-filmmaker, realised that waiting for the big guys to discover him was a painful process. And thus, he decided to take an unconventional route to narrate his stories.
"I did try the usual method of approaching producers, but nothing worked, probably because my stories are slightly unconventional and I believe in narrating them my way. Anyway, I don't think my films are unusual; they are entertaining. I try to tell them to a sensible audience with universal sensibilities. I consider my audience as a person with a mind of his own," says Mohan, who after the Love, Wrinkle-free, is back with his second micro-budget movie, Hola Venky for indie film lovers.
"Since movies are an expensive proposition, I need to work on a very tight budget, especially if I want that creative freedom. Both my films have been made that way," says Mohan, adding, "Hola Venky was shot within a budget of Rs 10lakh, with a three-member crew. The US shoot was covered by my producer friend in US — Giju John. For post-production funds, we ran a crowd funding campaign on indiegogo.com and we successfully raised Rs 5lakh through it."
And finally, after overcoming monetary and creative challenges, Hola Venky is now ready to be screened. "I'm glad that the film has come out well and doesn't look like a low budget film. I think it has a global connect and everyone would identify with it. This is a fun film about a middle-aged techie, a divorcee from Matunga. I use him to explore the idea of what it is like to be a man in 21st century India," explains Mohan.
Shot in guerilla style, in which the filmmaker explains that "you shoot without taking permits for locations and other things since they are expensive", Hola Venky is being used to promote an interesting concept Mohan has come up with. He calls it The Great Indian Traveling Cinema.
"This is a simple platform, created to bring movies into conference halls where people can enjoy the experience with their friends and colleagues. Most people in India, who love watching small-budget films, have one major complaint — that they get to hear about the movie after it has been taken off from that single show in a remote multiplex. So I thought it would be a good idea to take Hola Venky straight to corporate offices and personally screen it," says Mohan, adding, "A group of 40 or more can choose a convenient time and place to watch the film and I will carry a Blu Ray player, a projector and screen with me. I want to break the huge wall that currently exists between the filmmaker and the audience."