2013 looks promising in terms of content, narrative and formats.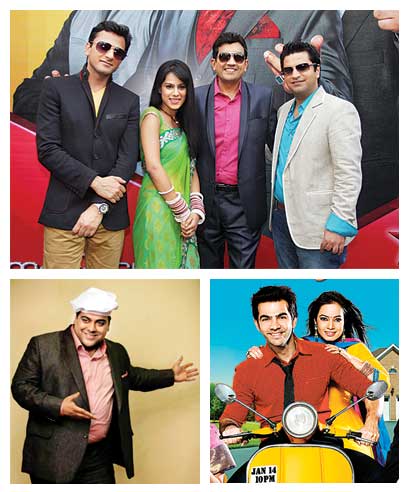 Experimentation and innovation will be the mantra on TV this year. Everyone from broadcasters to producers agree that fresh and different content, whether in terms of stories or story-telling, will take centrestage.
Says Ajit Thakur, general manager, Life Ok, "New genres will be introduced and daily soaps will be varied. Thrillers and mythological serials will come back in a huge way." The seeds were sown last year with the success of Devon Ke Dev Mahadev that saw a spate of serials like Ramayan, Jai Jagjanini Maa Durga being launched. This year will see Mahabharat back on the tube, albeit with a new cast.
The most-awaited thriller will be Anil Kapoor's 24 on Colors, which sees him making his TV debut. The Indian adaptation of the hit international series will see Anil playing the lead role of Jack Bauer that was originally played by Kiefer Sutherland. Talks are on for the popular series Heroes to be adapted but the producers want to keep it under wraps.
Beauty and the Beast is already being transformed as Saajan on Sony with Rohit Khurana likely to play the role of the beast. Saas-bahu sagas will continue to be the mainstay of primetime television, but with a twist. Whether it's Zee's Housewife Hai Sab Jaanti Hai that depicts the everyday fights between a fiesty bahu and a greedy saas in a tongue-in-cheek manner or Hum Aapke Hain In-laws (SAB TV), a story of a couple caught in the whirlwind of confusion with their in-laws, the story of the quintessential Indian family will rule.
Emphasis will be on real and relatable shows like Amita Ka Amit (Sony) that revolves around ordinary people. As Sudhir Sharma, producer of Na Bole Tum Na Maine Kuch Kaha says, "Unreal drama is passé."
Hopefully, this year will also see fiction shows that are finite. And if not, take seasonal breaks at least. Na Bole Tum Na Maine Kuch Kaha is one of the first shows to be aired in its second season this year. Earlier we had Kitani Mohabbat Hai that was aired in two seasons. Avers Ajit, "Instead of indefinite shows, we will be looking at having finite seasons."
Reality shows are also being tweaked. Zee is set to launch India Ke Dramebaaz that will test the acting skills of kids. Colors will launch a comedy drama Nautanki that will have have actors depicting different situations and stories in a funny way. Tusshar Kapoor makes his TV debut as a judge on the show. Then there's Welcome, that features an ensemble of popular TV celebs and will test their hosting, entertainment and culinary skills. The show will be hosted by Ram Kapoor.
The year definitely looks interesting for the small-screen, but how it pans out only viewers will tell.