Minor Spoilers Ahead. But if you haven't watched the episode yet, you probably deserve it.
Game of Thrones, is known for its shock and awe value, particularly for its death scenes, and the ninth episode of every season proves that. Since season 1, that penultimate episode is always highly awaited by fans because of two reasons; one - a good plot twist, and two - an important death. However, this time around, the ninth episode of season 4 mixed is up quite a bit, but did not not disappoint at all.
Entitled 'The Watchers on the Wall', it showcases a grueling and intense battle at Castle Black, in what may be the biggest action sequence in the show's four year history. And of course there were some deaths, but as the book readers well know, one important death is still yet to come, this season. However, even though the episode was filled with action, and Jon Snow impressively took charge of the entire battle, the writers have hinted that Sunday's finale could outdo it, and possibly be the show's best episode yet.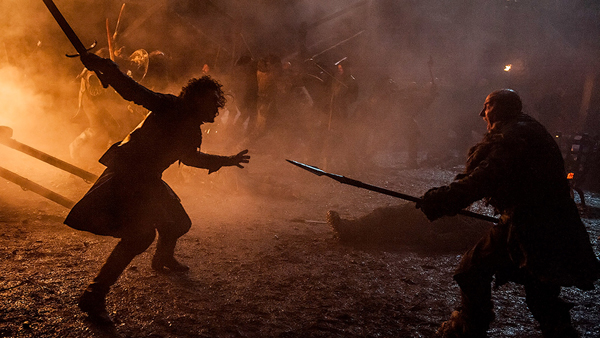 Read Also: Exclusive Interview - Maisie Williams speaks about what it's like to play Arya Stark on HBO's 'Game of Thrones'
The next episode will have a lot of loose ends to tie up, particularly the fate of Tyrion Lannister, who last we saw, had lost his trial by combat and was sentenced to death. But there's a lot more; the fate of Jon Snow and the Night's Watch, What will Arya do next? Petyr Baelish and Sansa's story-line, and of course Daenerys Targaryen, who will inevitably do something or the other that will surprise us all in the finale.
The finale entitled 'The Children' will break the narrative pattern that the previous season had set, in which a major death or plot twist would happen in the ninth episode while the finale served as a sort of wrap up and teaser for the next season. However, this season it seems that 'The Children' will in fact cover all the key characters, adding to their story-lines and not just focusing on one big climax.
"It's the best finale we've ever done, bar none," Game of Thrones showrunners David Benioff and Dan Weiss said in a statement to Entertainment Weekly. "The performances from our cast, the direction from Alex Graves, the VFX work, the new (music) cues from Ramin Djawadi—all of it came together in perhaps the finest hour we've produced. We're immensely proud of 'The Children.' And a little intimidated by the episode, because now we have to get back to the business of season five and figure out a way to top it."
HBO's schedule also slots the episode at 66 minutes, longer than the usual running time.
Read Also: These 'Game of Thrones' infographics help you figure out who's dead and who's alive in Westeros
Read Also: Melisandre, the Red Priestess of R'hllor, gives us insights into 'Game of Thrones' Season 4