We spoke to health experts to list the risks associated with this popular diet in the UK.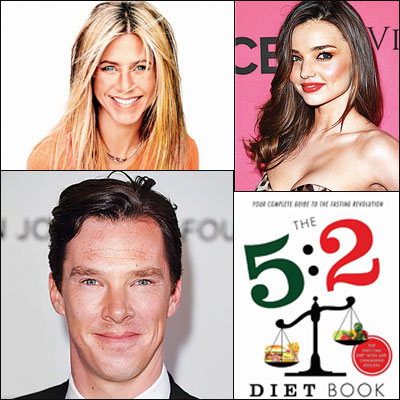 Ever heard of a diet that lets you have your cake and eat it too? We're not kidding, it's true. The 5:2 Diet also known as The Fast Diet which has seen an upward slope in terms of popularity in the year 2013, in the UK and later spread to the US and Europe, certainly seems to continue in 2014 as well. Meanwhile, the fact that some of the hottest celebs in Hollywood too follow the diet (like Jennifer Aniston, Benedict Cumberbatch and Miranda Kerr) just adds to its glamour quotient. So what really makes this diet so popular? Will it actually work? Read on to know more...
What does it involve?
The 5:2 Diet is a form of intermittent fasting (a pattern of eating that alternates between periods of fasting). Here, for two non-consecutive days in a week, one has to restrict their daily calorie intake to 500 calories (600 calories for men). Meanwhile, on the remaining five days of the week, one can eat normally (2,000 calories for women and 2,500 calories for men).
Can lead to harmful effects
Nutrionist Pooja Makhija doesn't approves of the diet, saying,
"I don't believe that the human body changes its physiology and works differently on different days of the week, like differently on the five normal eating days vs the remaining two fasting days. If one restricts one's diet to just 500 calories a day, the body goes into a starvation mode and will try to convert those 500 calories into fat. There will occur a loss of muscle since the body will utilise muscles for sustenance."
This diet keeps one psychologically happy but not physiologically, as the body will suffer. "One can't be on this diet for the rest of one's life. Also, never begin a diet of severe intensity as this can lead to problems like hair loss, hallucination, anger and irritability, mood swings and irregular periods in women," warns Makhija.
Not an easy task
At first glance it does seem appealing but fasting can be difficult, especially when you are not used to it. You can get obsessed with food! Also, you may tend to binge on the other five days when you can eat at will. This yo-yo-ing can upset your metabolism, opines health consultant Dr Parul R Sheth. "There is not much scientific evidence on the safety and effectiveness of the 5:2 Diet. It is always better to stick to evidence-based diet programmes. Two days fasting can cause lethargy and tiredness reflecting on your work productivity. Also, you may end up with headache, nausea, acidity, food craving, dizziness and irritability," she informs.
Not meant for everyone
Now that's we're done with the fasting part, let's talk about the remainder five days. The diet aims for individuals to consume 2,000 calories on the non-fasting days (2,500 calories for men). What do the health experts think of this? "This diet is actually for obese individuals who tend to eat a lot and should keep their daily calorie intake to about 2,000 to 2,500 calories a day. Also, the recommend calories is designed as per the individuals abroad. For example, Indian women on the other hand, on an average have a height of 5'1" and 5'2", and weigh around 50 to 60 kg, according to which they require 1,200 to 1,300 calories a day," Makhija says. Obviously, not meant for us.
If you still want to give it a try...
You can try The 5:2 Diet, provided you choose to eat balanced food on the 'fast' days to avoid nutritional deficiencies and avoid binging on non-fast days. Talk to your doctor first before starting on the diet programme, as it may not be suitable for all. Most importantly not everyone can fast, says Sheth.