Aaradhya Bachchan, all of 16 months, recites the whole mantra fluently!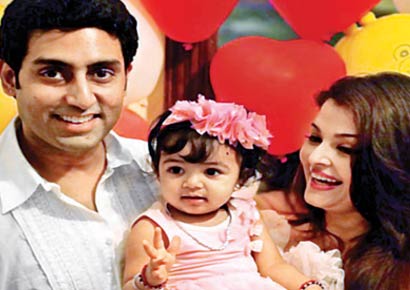 Aaradhya Bachchan may well be India's most famous baby. The papparazzi fall over each other to snap up her pictures. She has been featured in every newspaper and magazine in the country. Every bit of information about Aishwarya and Abhishek's first-born is lapped up by the Bachchan fans, and same goes for the couple's friends.
Now all new mommies can't stop talking about their babies, and Aishwarya is no different. The proud mommy Ash was heard gushing to a group of people at a recent party how her 16-month-old baby can not only recite numbers from 1-10 and spout alphabets from A to Z, but she can also recite the entire Gayatri Mantra fluently, which lets face it, not even most adults can!
Says a source, "At the party thrown in honour of Steven Spielberg last week Aishwarya was asked about her baby and when one guest asked her if she was talking already, now that she was one, Ash told her proudly how her little girl could recite the Gayatri Mantri fluently."
The actress-turned-fulltime mother spends all her time with Aradhaya and the little one also travels with her everywhere. In the last one year, she has travelled from Dubai to New York (for her United Nations work) and Bangkok and even Paris. Whether it is at home, on the aircraft or in the hotel room, Ash keeps talking to her baby and teaches her things. Aaradhya is very bright and picks up things quite fast. Grandparents, Amitabh and Jaya, never tire about talking about little Aaradhya's achievements to their friends.