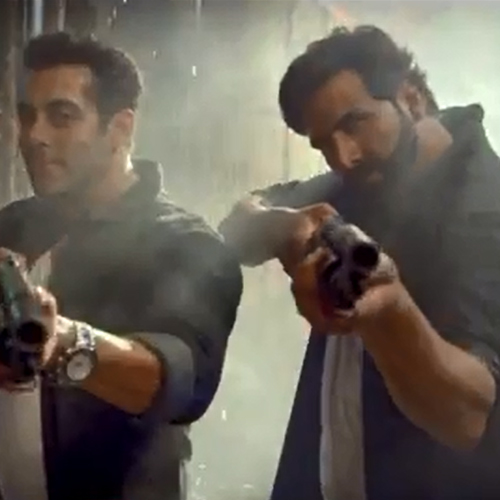 The latest track from 'Fugly'—'Yeh Fugly Fugly kya hain' starring the lead cast of the film and Bollywood stars Akshay Kumar and Salman Khan has gone viral on the web.
In a span of two days, The track has managed to get more than 1 crore hits with its foot-tapping number and groovy spider steps.
The step performed by Akshay Kumar, Salman Khan and debutants Mohit Marwah, Kiara Advani, Vijender Singh and Arfi Lamba is gaining credence with its catchy style and some colourful add-ons in the song.
While Akshay Kumar adds his usual wickedness to the song, Salman Khan brings his groovy usual self making the combo a super-hit.
Prior to this, Akshay and Salman have worked together in the dud 'Jaan-e-mann' with Priety zinta.
According to reports, Ashvini Yardi was heard to be saying, "Our motive to make Fugly popular among the youth has been reassured by the response the video is receiving. Viewers are loving it. The lyrics of the song represent the feel of the film."
Puglist Vijender Singh makes his debut with this film:
Boxing champion and Olympic medallist Vijender Singh, who had been trying his luck in Bollywood for quite some time, is finally being launched by Grazing Goat Pictures in 'Fugly'.
Playing the character of a boxer and hailing from a political family, Vijender's character seems funny in the trailer.
Produced by Ashvini Yardi and Alka Bhatia, Fugly is a story of four friends Devi (played by Kiara Advani), Gaurav (Vijender Singh), Aditya (Arfi Lamba) and Dev (Mohit Marwah), who play quirky characters.
The movie revolves around their encounter with a stringent and no-nonsense cop Chautala, played by Jimmy Shergill.
Fugly is a youth-centric entertainment movie, set in the bylanes of Delhi and directed by Kabir Sadanand. It is scheduled to release on June 13.
Watch the peppy number below: