Wear the rich fabric on the red carpet only if you can pull it off, suggest experts.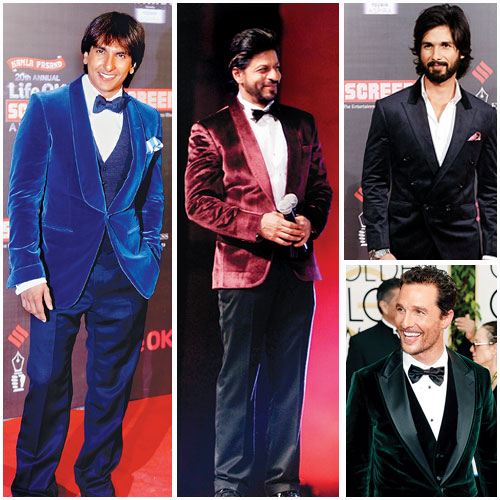 At the Golden Globes this year, Matthew McConaughey sported an emerald green velvet tux and looked like a million bucks. Back home Ranveer Singh wore a velvet Tom Ford jacket which was two sizes bigger than him and he clearly stuck out like a sore thumb. Velvet or velour wot many men can pull it off and also a lot of Indian designers do not understand the complex fabric and the careful tailoring it requires.
Lack of knowledge
Designer Troy Costa uses velour which is a silk-based fabric from the family of velvet. Besides Shahid, he also dressed up Vidyut Jamwal two months ago in a hound tooth version and also made a tux for John Abraham's wedding. Troy, who sources velour from Italy, says that most designers say they use crushed velvet but it's actually a cheap fabric from Saroj. "Most designers don't even use the right equipment for ironing velvet and what you see on the ramp is the burnt velvet. Ideally, a well-made evening jacket in this fabric should be matte and not shiny," he says. Midnight blue, black and ink blue are the colours of the season. Troy also did two versions — one in hound tooth and other in Prince of Wales checks.

Needs careful tailoring
Designer Arjun Khanna says, "When I think of velvet tux and suits, two names that come to mind are Tom Ford and Ralph Lauren Purple. This season velvet tux has made a strong presence with double breasted tailoring in the form of four-button and six-button variations with high peak lapel detailing. I'm sorry to say this but 95 per cent of designers don't have the knowledge about the velvet fabric and its tailoring. Having said that, I'd like to add that it's a classic and makes a great sartorial statement on the red carpet internationally. Sadly in India, not many men can pull it off.
Indian designers don't understand the pile of the fabric. You can't tailor velvet in the same manner as you would tailor a suit. There are three grades of velvet — smoking jacket, quilted or tux. Robert Downey Jr in Sherlock Holmes conveyed his ruffian, grunge and untidy vibe through his dressing. He gave velvet a whole new meaning altogether."

Cinematic allure
"Velvet is a big fabric which is en vogue every year especially during the film awards season. This year we see it more, thanks to The Great Gatsby and The Wolf Of Wall Street. I'm making velvet suits and jackets for cocktails and weddings too. The rich extravagant fabric works for everyone, however, one should not embellish it. It's more about the fit than embroidery," says designer Nikhil Mehra of the label Shantanu & Nikhil.