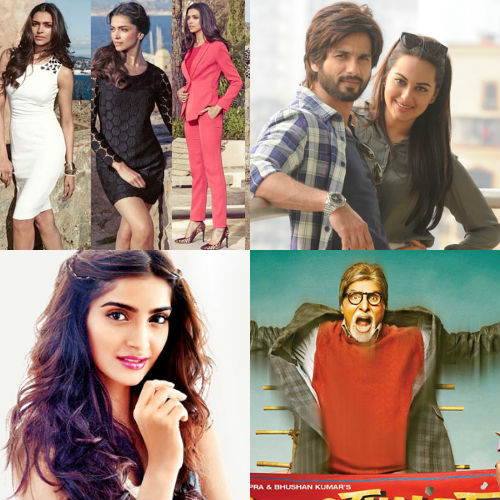 Bollywood diva Deepika Padukone has launched her fashion line and made news for performing at IPL opening gala with Shahrukh Khan. Meanwhile Amitabh Bachchan watched his recent release with President Pranab Mukherjee.
Here's a list of top B-town news that you ought to know:
1. Deepika Padukone launches fashion line:
Bollywood's stunning diva Deepika Padukone revealed her fashion collection recently. She has designed the looks and took close to six-months to design and perfect the collection.
After having designed the clothing line, Deepika spent a weekend at Saint Tropez on the French Riviera shooting for her collection. We think Deepika is stunningly talented!
Have a dekko of the stunning lady in her prolific best:
2. IPL performance by Deepika Padukone and Shah Rukh Khan
Bollywood superstars Shahrukh Khan and Deepika Padukone performed at the Indian Premier League (IPL) gala dinner on Tuesday and the guest list included Indian captain Mahendra Singh Dhoni. The duo entertained everyone by dancing to their groovy tunes.
The sit-down dinner was a glamorous prelude to the cricket beginning on Wednesday in Abu Dhabi, the capital of the United Arab Emirates (UAE), where the seventh season of the IPL will begin on April 16.
3. Amitabh Bachchan watches Bhootnath 2 with Pranab Mukherjee
Amidst the hustle and bustle of Lok Sabha elections, President Pranab Mukherjee spent a relaxed evening with Amitabh Bachchan watching his latest movie 'Bhootnath Returns' at Rashtrapati Bhavan here.
71-year-old Bachchan plays a ghost-turned-politician who enters the electoral fray to rid the country of corruption and other ills which he finds rooted deeply.
The movie, released on April 11, also sends a strong message to the viewers about the importance of voting.
4. Young stars watch two states: A thumbs up for Alia-Arjun
Bollywood's young stars Deepika Padukone, Ranveer Singh, Shahid Kapoor were seen at the special screening of Alia Bhatt and Arjun Kapoor's '2 States'. The screening was held at Yash Raj Studios in Mumbai on Thursday.
A little emotional post2states.cannot fathom what Alia has done as ananya.i know Nthng abt acting but Alia has arrived! #2States

— Masaba Gupta (@MasabaG) April 17, 2014
5. Sanjay Dutt's MMS clip leaked.
Sanjay Dutt has courted trouble once again. The actor, who was out on a parole for three months recently, had reportedly hosted a party for his friends from the film industry and that was when a video of his in a drunken state was recorded and eventually leaked.
In the video that has now reportedly been leaked shows Dutt playing an imaginary guitar and talking about his colleagues from the industry.
6. Chitrangadha Singh divorces husband Jyoti Randhawa?
According to news report in a leading tabloid, the court has approved Chitrangadha Singh and Jyoti Randhawa's request and granted them divorce and their son Zorawar's custody has been granted to Chitrangada.
The couple tied the knot in 2001. The model-turned-actress made a successful debut in Bollywood with Sudhir Mishra's critically acclaimed film Hazaaron Khwaishen Aisi in 2003.
Prior to this, there were rumors but the actor had rubbished them.
7. Revealed: Ranbir Kapoor's look in 'Bombay velvet'
The first look of Ranbir Kapoor-Anushka Sharma starrer Bombay Velvet was released by Bombay Velvet FC on Twitter.
Exclusiv Ranbir Kapoor & Anushka Sharma First Look as Johnny and Rosie in Bombay Velvet. @BV_BombayVelvet pic.twitter.com/uk3vncsF4v

— Bombay Velvet FC (@BV_BombayVelvet) April 7, 2014
8. Hema Malini, Javed Jafferi and Smriti Irani's films banned by EC
Films of stars Hema Malini, Jaya Prada, Nagma, Smriti Irani and Jaaved Jaaferi, who are all contesting Lok Sabha elections, have been banned from being telecast on the national television channel Doordarshan, officials said on Thursday.
After programmes and films were brought under the ambit of the model code of conduct, official said these will now be viewed as objects that influence voters.
9. Ranveer Singh hires marathi tutor for Bajirao Mastani
After being finalised for Sanjay Leela Bhansali's Bajirao Mastani, Ranveer Singh has hired a marathi tutor to help him perfect the language as he wants to perfect his act as the Peshwa ruler. The only thing left is a confirmation from leading lady Deepika on her being part of the film.
10. I have no issues with Shraddha Kapoor: Sonam Kapoor
Bollywood fashionista Sonam Kapoor denied that she has no issues with 'Aashiqui 2' actress and her contemporary Shraddha Kapoor.
According to a video by a leading entertainment channel, Sonam walked past Shraddha at the red carpet of the Grazia Young Fashion Awards. But the actress took to Twitter to clarify why she did not stop to greet Shraddha.
Oh for f... Sake I have no issue with @ShraddhaKapoor I was late and had to run in! #youknowwhatimean

— Sonam Kapoor (@sonamakapoor) April 16, 2014