The man who taught 'Student Of The Year' stars Varun Dhawan and Sidharth Malhotra football tricks, features with John in a world cup ad and is travelling the world to represent India in freestyle football.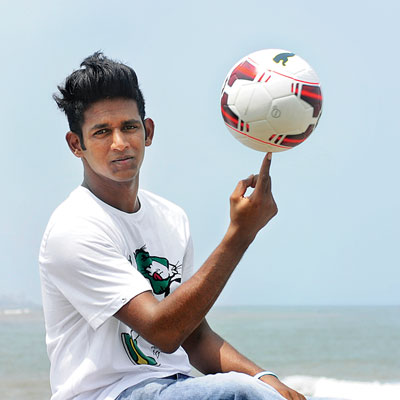 He's a tall kid - six feet two inches - and if you've watched him at work, you'll wonder if he really has bones in his body, as he flips, somersaults and defies gravity at odd angles. Now, what kind of a job would that be? One that's brought him two world records, a couple of adverts and sequences in films, and an opportunity to represent his country in over a dozen international arenas. But the 24-year-old has no airs that come with the celebrity status; an unusual career choice keeps one of India's best football freestyle artistes Archis Patil grounded. For in between the congratulatory comments, he's always been asked, "So when are you planning to start working?" Here's his story, kind of from the beginning till so far...
The kick-start, roadblock and revival
His relationship with football could well be credited to his father, even if the choices Archis eventually made were never intended by him. To keep him busy, 13-year-old-Archis was enrolled in a football summer camp by his father. "Since both my parents work, he didn't want me to sit at home," remembers Archis, whose father is an (Regional Transport Office) RTO inspector and mom, a traffic police inspector. He then went on to captain his school football team for three years, playing state level too. "Those years laid the foundation for me," Archis tells us.
But after school was over, so was football, "Because then I had to take science," he says, with heavy sarcasm. "A routine scene in an Indian family, you have to do certain things irrespective of where they take you. In junior college, I missed football completely, with classes, college and special classes taking all my time."
Now though, Archis remembers that phase as a short break, as he was back to playing the game he loved when he joined his engineering diploma college.
Second innings
Thakur College is known for its sports affiliations, he says, and it gave him the 'playing field'. "I was captain again, and we won state levels too. So that was a comeback," says the footballer, who in the same year represented India at the Gothia Cup in Sweden and the Dana Cup in Denmark. More events marked that year for him. He remembers losing all the weight he gained during his 12th, "I was 95 kgs," and suddenly shooting up by a foot. "It was a metamorphosis. I was short and fat. And suddenly, I had a good athletic physique."
With his principal's support, in the second year at Thakur, Archis started applying to play professionally for football clubs. He got selected to play under 19 for Mumbai FC that year. And next year, he joined the under 19 Air India team. But football wasn't discussed at home. "Initially, my parents felt I wasn't concentrating enough on studies and were totally against it. I don't blame them though. It's a very Indian mentality that you have to be a doctor or an engineer. That's all there is to life." Till his parents' turn around – that wasn't until the third year of his diploma – he says his travels abroad helped him stay steadfast to his goals. "I saw that those who pursue their passion are always happy. This one thing kept me motivated."
Football to freestyle football
An ankle injury got in the way of his dreams to play professional football, he says. But football wasn't going to let go, he jokes. "While doing a college project, I began surfing through youtube, and came across videos of people doing tricks with football." He says he pulled off the simpler tricks after a few attempts, but couldn't get a hang of the trickier stunts. "I wondered, I am a football player why can't I do these." Then an obsession began, he says. "I thought to myself, I am injured and can't play football, so rather than sitting at home wasting time, I'd practice something new."
The former striker spent hours on youtube, watching videos, practising, and getting acquainted with international freestylers on chat forums online. "I'd watch 10 videos on the same trick to find my way to do the difficult stunts," he recollects.
Soon enough, he was trying new variations in football freestyle, "that's called combos – basically joining two tricks for a new trick.
In action
After sweating it out the first two years, Archis started doing events and participating in freestyle competitions. He juggled events and his first year of BE in Information Technology as long as he could, and then quit to "concentrate on the passion part" of his life. "I started getting constant shows, choreography work and reality TV offers."
He was part of the Fictitious Dance Group, doing freestyle football sequences for the troupe, which won India's Got Talent Season 2. Things followed in such quick successions that the dateline of these years is quite a blur, he confesses.
There was also his move to the US, and quick return. "I got admission in a US university on merits, since I had two world records in football freestyle, a Guinness for most number of shoulder rolls in 60 seconds, which I share with another Indian freestyler, and one Limca for maximum side stalls in a minute. And there was a job waiting for me there too. I was in talks with LA Galaxy, the club, as an instructor for a freestyle summer coaching camp."
But the winters and having little to do for seven-eight months, till the camp would start, had him come back home in a few months. "I was getting good opportunities here, and I didn't feel like sitting it out there."
The big league
His first TV appearance was for VH1 Viva World Cup, during the last world cup promotions. "I started getting calls for auditions and work followed." He's also done a small freestyle sequence in Ladies vs Ricky Behl, returned to Sweden and Denmark where he was represented India in football freestyle at the Gothia and Dana cups, starred in ABCD: Any Body Can Dance, performed in Qatar, Malaysia, Czech Republic, choreographed Student of the Year stars Sidharth Malhotra and Varun Dhawan for the freestyle sequence for the Vele number, body doubled for Harbhajan Singh's Mumbai Indians advert fot the stunts with a season ball, and most recently, helped choreograph Sony Six's FIFA World Cup 'Live the Magic' campaign in India, that stars John Abraham. He stars in it too.
The Puma youth ambassador is now headed to Mauritius next week for a month, where he's among the only seven from the world, who will be performing at the Football Fiesta, a pre-world cup event. In August he'll be in Prague, for the Super Ball, the world's biggest freestyle competition, where he will be representing India.
Archis' footnotes
While the exposure at these world events gave him the opportunity to meet the people whose videos he once watched to learn, like Sweden's Philip Warren Gertsson's, he's also found motivation in some unkind comments. "Everywhere they were like, Indians can't do it. I have decided to change that. Back home too, when I began, I got a lot of comments like, 'yaar, you are doing circus tricks', that's changed now. It's nice when people who mocked you start to compliment you. It's motivating, a sign that I am doing something right."
Perhaps someday he will open an academy, and even complete his engineering degree, but more concrete are his plans to shoot a documentary about him and Mumbai. "I've already written a story," says the self-confessed foodie, who can dish up a mean fried chicken. There's another item on his bucket list, "shark diving," he says. I don't know how to swim, so maybe I can do cage shark diving, and go down with my underwater camera." Yes, perhaps a selfie with the sharks we suggest, and he smiles.