With great service, the Ming Yang offers both authentic culinary and a fine dining atmosphere.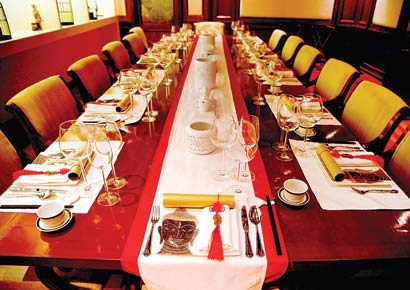 The atmosphere is sprawling and cheerful with rows of light glimmer, creating an aura of drama and romance at the Ming Yang, the Taj Land's End's Chinese restaurant, serving authentic Cantonese and Schezwan cuisines.
The ambience is obviously very high-end, large tables and beautiful drapes. The lighting is soothing and just right for dinner, albeit missing light romantic music. With great service, this restaurant offers both authentic culinary and a fine dining atmosphere.
The split-level layout lets you enjoy a beautiful view of the Arabian Sea and the Portuguese Fort from anywhere in the room. The right-angled zigzag of the back wall imitates a Chinese screen, as well as offers private bays for semi-private dining. Though you can savour many a Chinese delicacy here, they are also known for unmatched Szechwan cooking.
One cannot resist the chef's special Chilli Mountain Chicken — the taste stays with you till your last bite. The Salt 'n' Pepper Prawns and Konjee Crispy Lamb are brilliant. Lobster in Chilli Butter Garlic Sauce, Peking Duck Lobster in Chilli Butter Garlic Sauce and Tai Chin Kai are highly recommended.
Though the vegetarian delectables are few to name, but they are still lip-smacking. Vegetarians Crispy Spinach with Almond, Four Treasure Vegetables Sautéed Green Beans are options to die for. Chef's special Original Dimsums off-the-cart is a must for vegetarian food lovers.
I ended my meal with Fried Ice Cream — three scoops of vanilla ice cream covered with coconut batter and deep fried — a taste as unique as the name. Though a bit expensive, this is the perfect place to to go with family and friends.