Party-goers are booing posed photographs and packing off their guests in photo booths with quirky props to up the fun factor.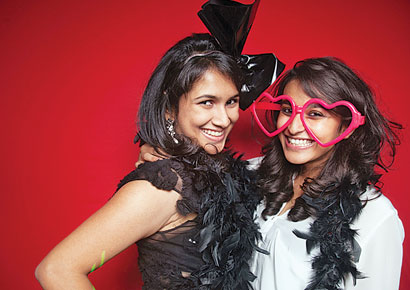 Eighteen-year-old Reena Gupta wanted to usher in her birthday in Cuban style. Along with getting an event planner, she chanced upon a photo booth option online. Now, when she looks back at her birthday photos, she cannot stop grinning as the photos exactly reflect the mood of the party.
"The photo booth was an extension of the party's theme. Right from palm trees to cigars to wide-brimmed hats, me and my friends had so much fun posing with all the funky props. They are the best birthday photos I have," shares Reena and adds, "Parties featuring a photo booth let my guests be narcissistic and be entertained at the same time. Plus it gave them something to share on Twitter and Facebook throughout the night."
Sheena Dabholkar started her own photo booth two years ago and customises her photos to resonate with the theme of the party. "Nowadays themed home-parties are becoming very popular. So, depending on the budget, theme and requirement of the client, we customise our photo booths to reflect the mood of the party," she says and shares that there is something private and engaging about photo booth that encourages people to shed their inhibitions.
"People tend to loosen up once they are behind the curtain as they know that they are not being watched or judged. Also props aid in donning a new persona and we are always there to engage even the shiest ones," Sheena adds. There are also video booths that are perfect for collecting personal messages for special occasions. Talking about her latest creation wherein she used a projector to impose visuals on people, Sheena says that with a little imagination, the sky is the limit to experimenting with your looks for keepsake.