Komal Nahta gets candid about the latest release.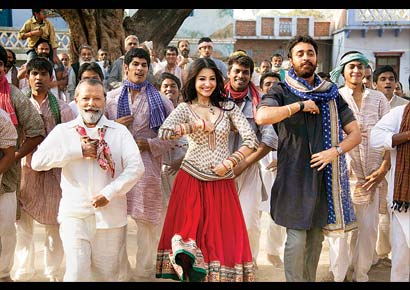 Matru Ki Bijlee Ka Mandola is a story set in a village of Haryana, where Harry Mandola (Pankaj Kapur) is a big businessman. He is eyeing the land of the poor farmers and will do anything to acq­uire it so that he can build a huge factory on the same. Hukum Singh Matru (Imran Khan) is the educated driver and aide of Mandola.
Bijlee (Anushka Sharma) is Mandola's outgoing daughter. Mandola plans to get Bijlee married to Badal (Arya Babbar), the son of minister Chaudhary Devi (Shabana Azmi) whose signature could aid Mandola in realising his dream of setting up a factory in the village. Matru sympathises with the villagers and guides them to refrain from selling their land. Soon, Bijlee also joins Matru in his noble actions.
The story about an impending marriage which can benefit both the parties to the marriage is not novel at all. Neither is the angle of a third party, which can put an impediment in the wedding, new. Abhishek Chaubey and Vishal Bhardwaj's screenplay is long-drawn instead of being crisp and, therefore, meanders here and there. Since there is not much novelty in the story, the lengthy drama tends to bore the audience. The first half moves at a leisurely pace and actually tests the viewers' patience. It is bad. The pace picks up after interval and even otherwise, the latter part of the post-interval portion is better.
The comedy in the film will appeal to a small section of the audience only. Here, it must be mentioned that while a very few comic punches are mass-oriented, most of them are of the kind which will find favour with only the classes.
Vishal's dialogues are good and evoke laughter. But they are also meant more for the gentry audience. Pankaj does a splendid job as Mandola. He is so natural and mind-blowing that one can't stop admiring him. Imran gets into the skin of the Haryanvi Matru and delivers a fine performance. Anushka is good but gets limited scope. Arya stands out with a remarkable show of talent. Shabana also acts with admirable ease and leaves a lasting impression. Navneet Nishan is nice in the couple of scenes she has.
On the whole, the film entertains only in parts. It is otherwise lengthy and boring and will, therefore, fail to make its mark at the box-office.
(Watch Komal Nahta review the film on Zee Etc on Sunday 8.30 pm and Monday 8 am)