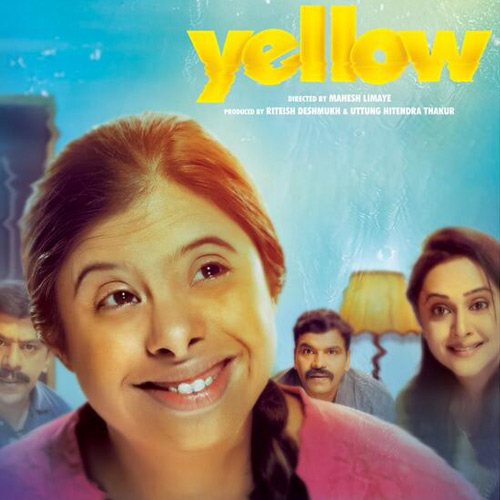 Cast - Mrinal Kulkarni, Upendra Limaye, Hrishikesh Joshi, Manoj Joshi, Aishwarya Narkar, Gauri Gadgil
Director - Mahesh Limaye
Rating - ****
What's it about
Yellow isn't just a story about overcoming your personal challenges, but it is also a lesson for each one of us to be grateful and feel blessed for the many things we take for granted. Yellow is the story of Gauri Gadgil, a girl with special needs whose love for water at an young age turns her handicap into her greatest strength. We meet Gauri as a child when her father (Manoj Joshi) is on the verge of letting her die. He curses her for never letting him live the life he envisioned. Gauri's mother (Mrinal Kulkarni) leaves him to stay with her brother (Hrishikesh Joshi) and give her daughter a fair chance at life. Despite suffering from Down Syndrome, Gauri has the ability to secretly soak in everything that's happening around her. She lives in her fairy tale world where she's a princess and the world dances to the tunes of the stories told to her by her uncle. The film revolves around Gauri's affinity for water and her love for swimming. Upendra Limaye plays her coach who trains her for the National Championships despite the challenges a student like Gauri presents.
What's hot
Yellow is a performance driven film. Each and every actor is cast superbly without standing out like a sore thumb or looking a misfit. Gauri Gadgil who plays the lead role is a star and she lets the camera capture some of her most uninhibited moments with ease. Whether it is the stand off scene with her coach or her monologues talking about her dreams and ambitions she grabs your attention in every scene. Mrinal Kulkarni and Hrishikesh Joshi are natural performers and manage to give the story a different shade of love and caring. Upendra Limaye is superb as the strict coach who manages to crack the code in the end to push Gauri to her limits and be a National Champion. The writing is lucid and the subject is handled with utmost sensitivity. There is no attempt to make it into an attempt to garner sympathy or play up the emotional card of Gauri. Instead the director focuses on the positives, the internal battles and the concept that your mind can make you achieve anything you believe in. However, the most beautiful and touching scene is when the concept behind the title of the film unravels. You can't help but get goosebumps when that moment arrives.
What's not
The second half could have been tighter, especially the moments leading to the climax. Also Gauri's father showing up abruptly through out the film needed a more substantial premise. It would have been interesting to have more monologues from Gauri giving us more glimpses into her creative mind and the world she creates.
What to do
A must watch, Yellow makes a special place in your heart with its simple story about a girl's determination to not let any shortcomings come in the way of achieving her dreams. Go buy that ticket today!