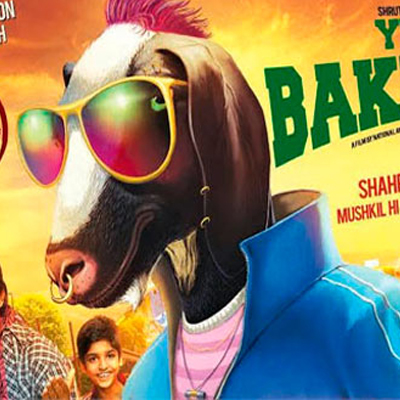 Cast: Anshuman Jha, Asif Basra, Amit Sial, Uttkarsh Majumdar, Faiz Mohammad, Suruchi Aulakh, Yaushika Verma, Shameem Khan Director: Janaki Vishwanathan Rating:**
What's it about:
Naming a goat Shah Rukh might be a good stunt to draw attention, unfortunately Janaki Vishwanathan's film Yeh Hai Bakrapur fails to rise above this gimmick. A social and political satire the film revolves around Zulfie and his pet goat Shah Rukh whose name draws it unwanted attention. Using the animal as a token to talk about religion, corruption and other topics the film's script is all over the place showing sparks of brilliance only in a few places.
What's hot:
Abinanadan Ramanujam's cinematography is spot on in capturing and creating the right feel for the story. The cast gives an average performance with Anshuman Jha and Suruchi Aulakh being the stand out performers. Fortunately Vishwanathan manages to keep a uniformity in the whole storyline. There is no attempt to inject doses of glamour or make the plot look more appealing with item songs or other gimmicks.
What's not:
What works for Bakrapur is also the reason for its downfall. The idea of using Shah Rukh's name to create interest fades away in the first half and so do the jokes written around it. Also the writing is poor and mostly centered around the goat leaving no scope for the peripheral characters to develop. The pace is extremely slow and instead of using humor to propel the storyline forward it becomes a futile exercise in making the film more interesting.
What to do:
This Bakrapur makes a bakra out of those expecting something above the ordinary.