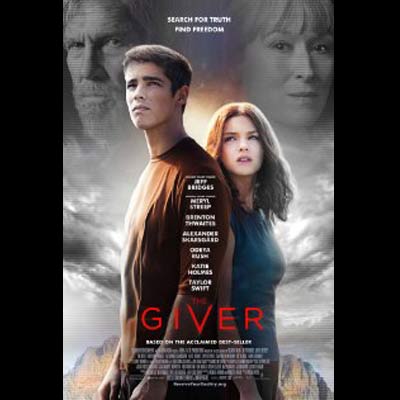 Director: Phillip Noyce
Cast: Jeff Bridges, Meryl Streep, Brenton Thwaites, Alexander Skarsgard, Odeya Rush, Katie Holmes, Taylor Swift
Rating: ***
What's it about: Remember the song 'Imagine' by John Lennon? Now, imagine a world that takes his vision to an extreme, reached by resorting to 'sameness', to the extent that all memories of the past are erased. A world with no feeling. No love. A world where choice is taken away. All in the name of the good of 'communities' now sustained on this belief system. Only one person, the receiver of memories is entrusted with holding the key to the past, just in case. A young man, Jonas (Thwaites) realises his mission when he learns from the Giver (Bridges). The film is based on the book by Lois Lowry.
What's hot: The acting (Streep could do this with her eyes closed. Bridges' part feels like a hangover from Tron: Legacy. The supporting cast is competent). The music. The photography. Noyce's preciseness in direction. The existential questions a subject like this, throws up, are many. Very few movies these days make you think.
What's not: All said and done, it only scratches the surface in that respect. The film sets off in the right direction. You never know the origin of how the Communities were created, how the Elders evolved technologies and civilizations. Too much of what you see on screen, you have to take for granted, at face value. And the makers of the film have dumbed the content down a bit.
What to do: A film like this provokes us to change the way we think about worlds perfect and imperfect and know there is a hell in every heaven. Compelling points made, but not entirely gripping and a little too simplistic, The Giver isn't for everyone. You have to give a damn about everything around you to enjoy this one.