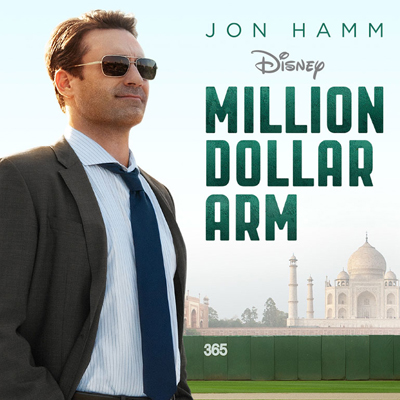 Cast:Jon Hamm, Suraj Sharma, Madhur Mittal, Alan Arkin, Lake Bell, Aasif Mandvi, Pitobash Tripathi, Darshan Jariwala
Director:Craig Gillespie Rating: ***1/2
What's it about:
Million Dollar Arm is a story that needed to be told. A tale of two small town boys from India making into the big premier league of American baseball on the merit of their handwork and dedication remained buried in the newsprint and TV reels for years. Now Craig Gillespie puts together a stellar ensemble that chronicles the journey of Rinku (Suraj) and Dinesh (Madhur) from their modest beginnings to the meteoric rise as two charismatic sportsmen. Jon Hamm plays their mentor and sports agent J.B. Bernstein who is battling his own demons and going against all odds to prove his find isn't just a fluke.
What's hot:
It isn't an ordinary story of an underdog pitched against a sports background. All the characters in the film have something unique to offer. Apart from the boys Suraj Sharma and Madhur Mittal who are top notch, Pitobash also has a quirky yet important role as a interpreter who also documents everything happening around him and provides some light and humorous moments with his whacky take on life. Hamm is in great form and plays Bernstein effortlessly. There are times when you can feel his pain and empathise with his frustration as he undertakes the biggest challenge of his life. Alan Arkin stands out and shows why you can do more with less in the few scenes written for him. With India as a constant backdrop in the story, Gillespie manages to showcase the dichotomy of his characters who are initially awkward to embrace the strange foreign culture they are pushed into.
What's not:
The curse of the second half sets in quite early on as we realise not much is happening at the pace we expected. Especially when the boys reach LA, instead of focussing on their story we get to see the half baked and a bit cheesy romantic track with J.B. and his next door tenant. While it does induce those 'awwww' moments when she dolls up into a Indian outfit or the boys discuss chicken curry and daal, the set up seems quite made up. It would have been nice to have the real Rinku and Dinesh make a cameo towards the end or give us their own version of this incredible journey.
What to do:
An uplifting inspirational story of two individuals who rose above their shortcomings, Million Dollar Arm is highly recommended for its sincere and honest attempt to prove that dreams whether American or Indian can come true.