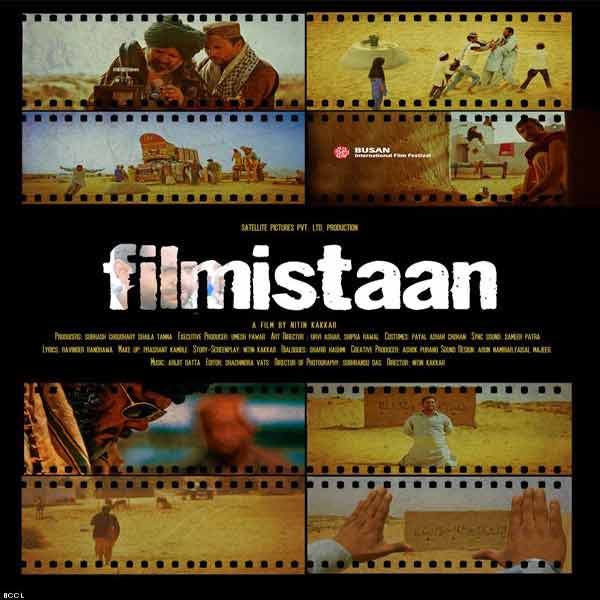 Filmistaan: ***1/2
Cast: Sharib Hashmi, Innamulhaq
Director: Nitin Kakkar
What it's about:
The India-Pakistan is a favorite with our filmmakers. From war films to romance from across the border (Henna, Veer Zara) all angles have been explored. This one is about two men -- one from each country --bonding over films and becoming friends.
A wannabe actor, who begins working as an assistant on a documentary film with an American crew in the remote areas in Rajasthan. One night, a an Islamic terrorist group kidnaps him for the American crew-member captures him instead and take him across the border to Pakistan. He is useless to them, but terrorists hold him captive in the house of a local Pakistani Aftaab whose smuggles in pirated Hindi films from India. The two men soon become friends when they discover their common love for Bollywood. Now it is upto Aftaab to save his friend Sunny and send him back home.
What's good:
Fresh and funny, this is a small film with a big heart. Shot on a shoe-string budget, and no star power, Filmistaan relies on it's script and its actors to carry the film. And they both do a wonderful job. Both Sharib and Innamulhaq are perfectly cast and delight with their performances. The developing friendship between the two is captured beautifully. Sunny's obsession with Bollywood is something that most people will relate to.
Many scenes of the film will stay with you The scene when Sunny pleads with his captors to let him watch the film, the one in which he 'directs' the ransom video and he auditions for the film are just a few examples. You'd expect a Indo-Pak film to be preachy and weepy, this one will pleasantly surprise you. And finally charm you as it a gratifying cinematic experience.
What's not:
The climax does seem a bit out of sync with the rest of the film, but on eis willing to overlook that.
What to do:
If you are a Bollywood fan, you cannot miss this one.