You'd think they would know by now that weddings in George RR Martin's world never really work out too well. It's a good thing Walder Frey wasn't invited.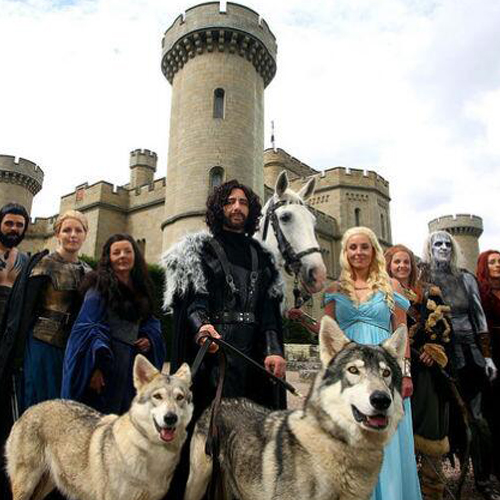 After watching the death toll at the Red wedding, one would think that any newlyweds would stay away from incorporating anything Game of Thrones into their special day. But to hardcore GoT fans Kerry Ford and Darren Prew this was a dream come true. The ceremony was set at Eastnor Castle in Herefordshire, England, and all those involved in the marital party played their part, taking on the guise of the various characters in Westeros.
TRAVIS: Darren & Kerry had a Game of Thrones themed wedding. I like Darren & Kerry. pic.twitter.com/xth75onrFj

— Tower FM (@TowerFMOfficial) July 3, 2014
Here's the Happy Couple cutting the cake.
It seems a team of artists spent almost 50 hours to make the bridal party look more like their fictional counterparts, taking pains to get the Dothraki war stripes and the White Walker's icy glare just right. The bride and groom dressed up as the mother of Dragons Daenerys Targaryen and the Lord Commander of the Night's Watch Jon Snow, respectively. Among those in the bridal party, the father of the bride dressed up as lovable mute Hodor accompanied by his grandson dressed as Bran Stark. The sister of the groom decided to dress up as the fierce Brienne of Tarth, while best man Mike McKeown was cold as ever dressed as a White Walker.
The superfan couple lucked out by winning a contest set up by British video-on-demand provider 'Blinkbox'.