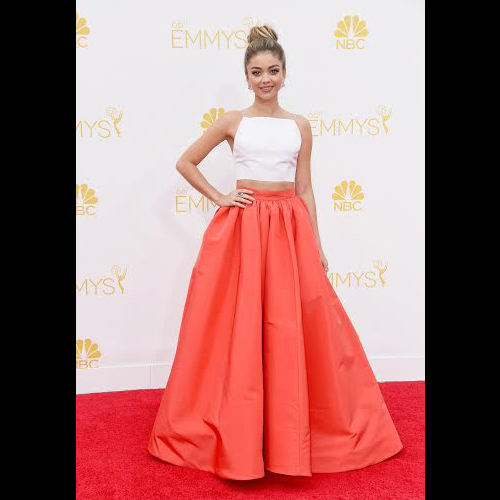 Red is the new black at Emmys, a night of sleek silhouettes
The Emmy awards saw a sea of red and white gowns with sleek silhouettes on Monday, as television's top talent channeled golden age glamour for Hollywood's first red carpet of the major awards season. Red, often a risky choice as it can disappear into the color of the carpet, was the favored tone for stars such as "Veep" nominee Julia Louis-Dreyfus in a column halter Carolina Herrera and "Homeland" star Claire Danes in a
vermillion embellished Givenchy dress.
Disney seeks drone-related air show patents
Walt Disney Co has filed for three drone-related patents that it says could lead to an era of aerial movie screens and larger-than-life puppets flying through the sky. The company's Disney Enterprises Inc subsidiary suggests its proposed drone-powered air shows could serve as an alternative to spectacles such as fireworks and large-scale light shows, according to its patent applications.
Emmys exalt old favorites over TV's shiny newcomers
For all the talk about newcomers raising the game of television, the industry on Monday chose to bestow its top Emmys on the long-running shows "Breaking Bad" and "Modern Family" and long-time television actors who held off challenges from film stars. "Breaking Bad," AMC's unlikely tale of a teacher-turned-drug kingpin Walter White, won the night's biggest honor, the Emmy for best drama series, for the second year in a row while lead Bryan Cranston took best drama actor for the fourth time in that role.
In cosmic tribute, Emmys bid adieu to Robin Williams
With a lump in his throat and a somber tremble in his voice, actor Billy Crystal paid a cosmic tribute to Robin Williams at the Primetime Emmy Awards on Monday, two weeks after the comedian died in an apparent suicide. Crystal, a longtime friend of Williams who rose to fame in the same 1970s comedy circuit, remembered the madcap performer as "the brightest star in a comedy galaxy". Read more
David Guetta claims fifth UK number one single
French DJ and producer David Guetta secured his fifth British number one single on Sunday after topping the charts with "Lovers On The Sun", the Official Charts Company said. The single, featuring U.S. singer-songwriter Sam Martin, knocked Norwegian double act Nico & Vinz's "Am I Wrong" into second place after two weeks in the top spot. Fellow former chart-toppers Magic! dropped to third place with "Rude".
British PM leads tributes to UK film veteran Richard Attenborough
British Prime Minister David Cameron led tributes on Monday for actor and director Richard Attenborough who died just days before his 91st birthday after a career in the film industry spanning over six decades. Tributes poured in from the worlds of entertainment, sports and politics for Attenborough, who died on Sunday, praising his film work, his charm, and his commitment to do good through various humanitarian causes. Read more
'Guardians' returns to reclaim U.S. box office win from 'Turtles'
Marvel's hit space adventure "Guardians of the Galaxy" returned to win the domestic box office race in its fourth week of release, slaying the "Teenage Mutant Ninja Turtles" and ending the oversized reptiles' two-week reign at the top of the charts. "Guardians," which also became the highest-grossing
movie of the summer season, sold $17.6 million worth of tickets at U.S. and Canadian theaters for the three days starting on Friday.
Hip hop mogul Suge Knight has 'lost a lot of blood': family
Hip hop mogul Marion "Suge" Knight, who was shot and wounded at a Los Angeles nightclub over the weekend, was resting at a local hospital but had "lost a lot of blood," his family said on Monday. Knight, 49, was struck by bullets early on Sunday morning when a gunman opened fire at a club in West Hollywood during a party in advance of the MTV Music Video Awards across town at The Forum in Inglewood.
Pop's ladies lead MTV VMAs with raunchy moves and tears
With some twerking and shaking, the leading ladies of pop music dominated the MTV Video Music Awards on Sunday, while an emotional Miley Cyrus and a touching moment between Beyonce and her family led the Moonman award wins of the night. Cyrus, who set tongues wagging last year with her raunchy "twerking" during her VMAs performance, won the night's top prize for video of the year for "Wrecking Ball," in which she cavorted naked on a wrecking ball.
Reggae making a revival in Jamaica, recalling golden era of '70s
The main event at fight night in Kingston, a popular boxing showcase, was hours away, but the crowd at the National Stadium's indoor arena, from the young and hip to the elderly, was already pumped. When reggae artist Tarrus Riley entered the stage, the screams of the full house were deafening, and the fervor persisted throughout his performance.