Emraan Hashmi, the 'serial kisser' and the 'Hit Machine', celebrates his birthday on March 24 as he turns 35, with 35 films to his credit.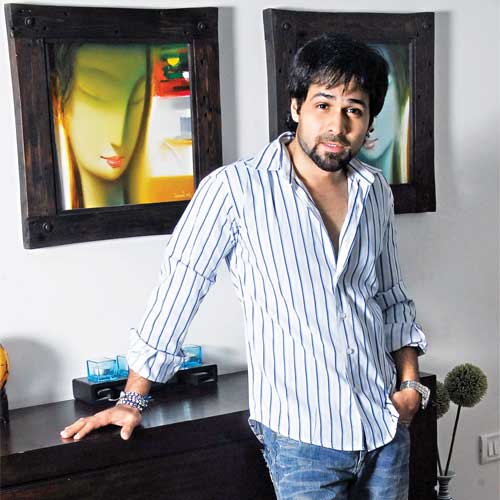 Emraan Hashmi is a man who turned heads in India when he first starred in 'Footpath' and 'Murder', and he continues to turn heads even as he turns 35 on March 24 of this year.
His 11-year-long career in the Indian film industry has seen him in films which have succeeded critically and commercially, and in movies which have bombed at the box-office.
Interestingly, he also has 35 films to his credit as he turns 35, just like Kangana Ranaut, who turned 27 on March 23 and has 27 films to her credit.
He was crowned as the 'serial kisser' in his initial years in Bollywood, especially after a slew of films such as 'Murder', 'Zeher', 'Aashiq Banaya Aapne' and 'Gangster'.
The nephew of Mahesh Bhatt, and cousin to Alia Bhatt, Hashmi is married to Praveen Shahani and has a son named Ayaan, who was born in 2010.
He is the man who, to a large extent, broke the conventional boundaries of what could be shown on screen with his steamy kisses and bedroom scenes.
He is, however, first and foremost, a brilliant actor whose versatility is in the ability to adapt to the change his characters undergo within the film, and convey the depth of the plot, and romance the leading ladies in an erotic manner.
Below are the roles that Hashmi has performed, characters that have grown and died within the films, but they prove the prowess of Hashmi as an actor.
The under-cover policeman: Hashmi first played this role in 'Gangster', but goes on to play this type of character in 'Jannat 2' as well. Both roles are vastly different from each other.
The obsessed lover: This character trait is played by Hashmi in 'Murder', which shot him ito the limelight of Bollywood.
The wrong-doer/gangster: Hashmi plays this kind of a role in 'Jannat', where he is a bookie turned match-fixer and he is the acclaimed gangster of Mumbai's underworld in 'Once Upon A Time In Mumbaai'.
The director: Hashmi is the director/lover who sweeps in as a saviour of the innocent in 'Raaz 3D', but he is also the director/hater turned obsessive lover of Silk in 'The Dirty Picture', two roles that could not be more different.
The artist obsessed with erotica: Hashmi has played the role of the haunted painter in 'Raaz- The Mystery Continues', where he creates erotically haunting paintings. More so, in 'Shanghai', where he is videographer with a hankering for shooting porn.