Cosy walks along the Seine, fun under a Mediterranean sun to romantic mountain retreats...France offers you a chance to create perfect honeymoon memories.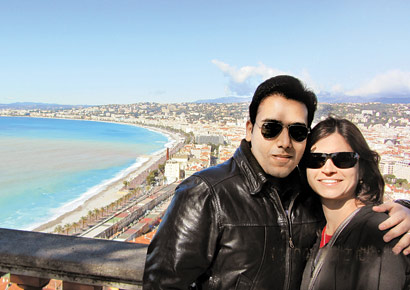 What led you to choose France as a honeymoon destination?
It was an extremely easy choice. All things French had always appealed to us. The diversity of its regions, each one unique in its own way had us wanting to discover France's variety. We wanted to experience a Parisian romance, enjoy sunny moments in Nice and include a short Alpine escapade. All of this was possible only in France.
How did you travel around France?
We chose Air France's direct flight to Paris. Its comfortable in-flight experience had us all geared up for our French rendezvous. We wanted to discover France at our own pace, leisurely and unhurried. There is nothing more convenient than purchasing Rail Europe train passes and travelling on France's high speed trains. These passes provide you with the comfort of travelling as you please and also offer other benefits. As seasoned train travellers in France, we absolutely recommend this option to the discerning traveller.
How was your stay in romantic Paris?
There is a certain magic in the air in Paris. You can feel it when you take a stroll along the Seine, or spend hours in a coffee shop or discover Paris's glorious monuments together or create your own special perfume together at Fragonard. A Seine River Cruise on the Compagnie de la Seine's Capitaine Fracasse boat provided a perfect opportunity for a romantic dinner for two. To add a bit of glamour to our evening, we also took in the Moulin Rouge for a glimpse of the French Can Can.
What excursions are possible outside Paris?
Disneyland Paris is an enjoyable option for those looking for some fun. Easily accessible by the RER train, the park promises nonstop entertainment. Divided into five lands, each one has a special theme and rides and attractions based around this central theme. Its exciting rides can find a diverse audience ranging from honeymooners to families and of course children.
What destination on the French Riviera did you choose as part of your itinerary?
It was Nice with its magnificent views of the Mediterranean and its Promenade des Anglais replete with hotels, restaurants, cafés, boutiques and art deco buildings that lured us. Its vibrant Cours Saleya fruit and flower market adds colour to the streets of Nice. An interesting way of discovering Nice is by hopping on its mini train - les Trains Touristiques de Nice which chugs across Old Nice and an entertaining 50 minutes can be spent discovering Nice's attractions. We could not resist its eclectic nightlife which had us on our feet till the wee hours of the morning. Nice can also be a recommended base for further exploring other glamorous sea side resorts such as Cannes, St Tropez and Monaco.
For a cosy romantic retreat, what destinations would you recommend?
It would have to be Annecy and Chamonix for us. Located in the Rhône Alpes region, these destinations can be easily explored by foot. Picturesque Annecy is intersected by small canals and flower decked quays. A romantic boat ride on Lake Annecy totally created a ''honeymoon'' feeling. A wish to see the majestic Mont Blanc took us to Chamonix, a two hour car ride away from Annecy. Vibrant Chamonix took us by surprise. Its shops, restaurants, entertainment options all lent a very colourful character to this Alpine wonderland. Plus, its plethora of activities in winter and summer make it a very enjoyable destination which can be visited all year round.
Our love affair with France could not end with just one visit. There was so much more to see, to discover. Our good bye proved to be most difficult. We left France with a promise of coming back...very soon!