The burlesque dancer and model who was in New Delhi recently, sported three different saris designed by Shivan and Narresh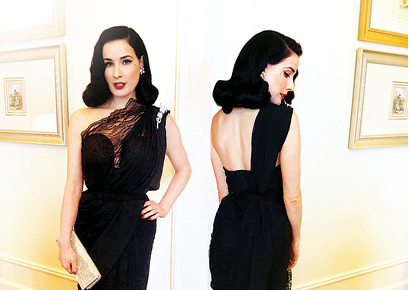 Dita Von Teese, burlesque dancer cum model, who was in the capital recently to promote a liquor brand, thoroughly enjoyed her trip to the country. The actor, who's known for her retro Hollywood glamour look, decided to go traditional when she sported a sari, not once, but on three separate occasions.
Designers Shivan and Narresh, who styled their "longtime muse," created a series of black saris from which Dita chose a few. "We interacted with Dita over the past four months, and though she initially wanted something traditional, later she decided on a typically Bollywood sari. We showed her some images of actresses based on different eras of Indian cinema and finally we narrowed down on Maharani Gayatri Devi who wasn't really Bollywood, but Indian royalty — her elegance and classic touch appealed to everyone," says Narresh.
The duo opted for black lace for two of the saris in keeping with Dita's love for corsets, while the third was a black tulle sari with gold chinar trees, that channelised the Maharani. "We knew that she's a total retro queen and her personal style is very Hollywood 1940s, so interpreting Indian royalty worked very well for her. Dita was really warm and fun to work with, in fact for her first meeting she decided to surprise everyone and sport a sari. She absolutely loved it. Initially she didn't realise that showing the midriff was mandatory in wearing the garment, and preferred a high-waist option," he adds.
Dita who's a fan of spicy food, also enjoyed sampling the Indian cuisine and was particularly fond of lentils and Indian bread. "We are not stylists really, but working with Dita was a great experience. In fact, we are still working on a few more saris for her, for which she's sending some of her favourite lace."