Divya Thakur, Founder and Creative Director, Design Temple talks about the ideas and influences which shaped her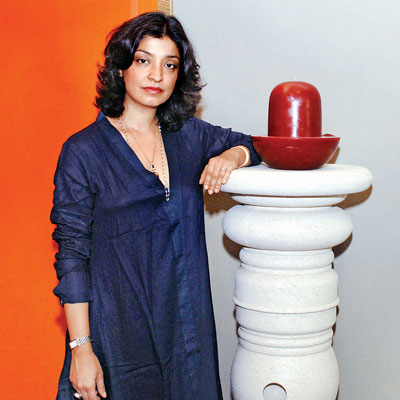 Her 'India cool' aesthetic redefines the phrase – 'urbane bohemian' season after season. Her gimlet-eyed focus and the ability to soak in the guttural energy of spaces around her also reflect in her multi-layered creations. Under her artistic direction, Design Temple has emerged to be an artisanal bohemia of sorts, over the years. Her Damroo range of furniture surreally morphs the lobby of Stockholm's swish Nordic hotel this month. The brand's collection of home accessories was exhibited at Maison&Objet in Jan this year. Last year, she took Paris by storm by presenting an Erogenous collection to an audience of over 85,000 professionals from across the world. The studio nestled in a quaint Colaba lane behind Taj has a soothing vibe about it – boho chic clothes on the racks, artistic modular pillars and sculptural pieces are simply inviting and invoke a sepia-tinted memory.
Inspiration behind the Damroo
"I travelled to Benaras a few years ago and it was a delightful experience because it is completely chaotic. There is something in it which holds true for every bohemian and I mean an urban, global bohemian. I think in many ways everyone is searching for that point of balance, point of bliss – that's the parallel which we are drawing with this city. We did a range of products which are tables, occasional furniture which we showed at Maison et Objet and was very well received. In India, we launched the products this month. An exhibit of photographs by Shahid Dattawala is due in June," says she.
Design Temple works with triggers, something which already exists inside a person and Divya shows you a version of it, which elicits a memory, a taste, a smell, a fragrance of warmth. "Benaras across the world has the ability to invoke a memory or an article or a photograph that you can connect with quite quickly. We are going to Stockholm this month end. We are invited to do the pop up of the entire lobby at the Nordic hotel in Sweden. It's going to be fantastic – from streets of India to a beautiful modern hotel in Sweden," says she with excitement.
India has a lot to share with the world
"All of us, because of the internet revolution today, are living in a world called 'flat world'. Locationally maybe someone lives in Mumbai, somebody lives in Sweden, and somebody lives in New York. But mentally and DNA wise, we are all connected. We visit museums. The need to connect and be connected is universal. So I think there is a large part of all of us that is naturally tapped into this global phenomenon of being a part of this world. It is really a blessing to be born in a country as vibrant as ours. When I say vibrant, I mean it in a joyful way. We have a lot to give and share with people over the world that can bring them maybe peace and maybe happiness. I think India has a lot of wonderful answers to that. That's the legacy of our country and that's the bridge that we are trying to cross, build, enable or propagate – whatever the correct words are."
She adds, "Having born here has been important to help build this bridge. Travelling overseas has been equally important because it is a to and fro process. It is a constant back and forth. We keep changing and they keep changing. So it is a huge influence to travel."
Diverse panoply of collections
"Our collections are quite varied from animals in 2010 to India cool – Recycling of gobar to Zanana which is a women's section to Erogenous to celebrating the spirit of Bombay. India will consciously feature in each collection but different aspects of the country. The celebration of sexuality is one part, spirituality is another part, being environment friendly, and recycling is another part."
The beautiful pillars I see in the studio are based on the architecture of the pillars from various parts of the country. "They are a completely different inspiration point. We have broken them down and made them modular so you can make two stools and a side table and also as a decorative object or turn it around into a floater. Depending on the kind of home you have - you can dress it up or down."
One can take them to a gilded home or a concrete house - these objects work.
Spiritual inclination
"I'm deeply inclined towards spirituality because I adore life and I love living in the sense that I want to make the most of it. I'm not abstaining in any way from life but I feel in order to enhance my experience of life, I have to be spiritual. The more I understand the nuances, the more I can appreciate them."
Work life balance
"It is a challenge because you have to take time out for everything because work can be quite demanding and can take up a lot of your time. However, I have got a great family so we end up spending a lot of time together. I have some really good friends inside the city. Rejuvenation comes from anything – sometimes I get it from being at home. If I go out every night, I'm depleted. I have to recalibrate my entire system like a computer and slow down in the evening." Divya calls her home her 'sanctuary'. "I think beautiful places do replenish your soul," she adds.
Artists I admire
"I'm easily inspired and quite easily moved. I'll go for a movie and start weeping. It could be a film, a book, a movie or a dress. I love how Japanese retain their culture and are yet so avant-garde."
New art forms vs. the canvas
"I don't think anything which you can touch or feel will ever die. It's like saying newspapers are dead and people are online. So many people said books are dead but the joy of reading a book from its pages, the smell of it and the feel of it is completely different from reading it online or on Kindle. Maybe kids growing up now are different but I wouldn't write off sculpture and art in favour of 3D videos at all because there is something raw which a canvas can give you because you can touch and feel it and it enhances your guttural experience. 3D is a new exhilarating medium and provides new experiences but I don't think it's a question of one or the other. I think it's a wonderful addition."