The tightrope walk between motherhood and career has always been difficult but dancers perhaps have it toughest, says Yogesh Pawar after speaking to women who balance life and art every day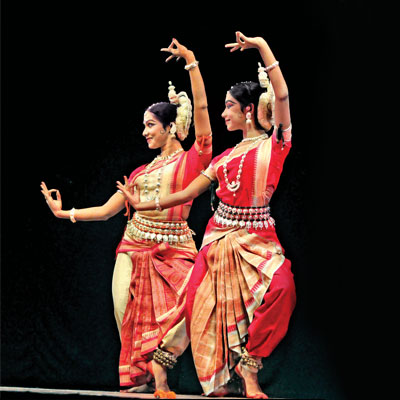 Unaware of her phone ringing in her bag kept aside, mother of two Prachi Wagh matches graceful steps to Bada natkhat hai re, Krishna Kanhaiya, Ka kare Yashoda maiya, the Lata Mangeshkar song about Yashoda's indulgent complaint that she is unable to control the naughty Krishna.
Fellow dancers look on approvingly as the 32-year-old gets the bhaava just right. "Must come from being a mother," says one of them, a teenager. Then there's a break and she's not so envious any more as Prachi checks her phone and begins an animated discussion with someone on the other side. Turns out her four-year-old son, playing near a window at home, has narrowly missed a falling heavy marble slab.
"Kabir's scared with the loud thud. My mother-in-law and the caretaker are trying to calm him but my younger one Mira's only a year-and-a-half. They must have their hands full," Prachi says, rushing out to grab a taxi to get to her suburban Santa Cruz home 10km away.
Once in the cab, she fidgets and repeatedly implores the driver, "Bhaiyya thoda jaldi chalo." Halfway through the journey, she calls again and can hear Kabir squealing and playing. She relaxes somewhat and admits to feeling a twinge of guilt about dividing her time.
"It's a fleeting, momentary thought. I took up dancing after my first baby. Even before contemplating motherhood again, I was sure that one shouldn't stop the other. It is the most liberating time of the day when I dance. In a way it has helped me preserve my sanity through motherhood," she says.
Prachi's dilemma is not new. Career women have always faced difficult choices as they walk the tightrope between motherhood and profession/vocation. And nowhere is this more pronounced than in the case of dancers.
"As a dancer, dance is your eldest child, you're married to your body and a mother to movement," laughs Dr Anita Ratnam, classical and contemporary dancer-choreographer, who is part of the stellar line-up at this year's Mudra Dance Festival (April 24 - 30) woven around the theme of motherhood.
"I've no issues with dancers who choose not to become mothers since it takes away them too much away from contemplation, research, thought, practice, rehearsals, creation and touring which are such a big part of the grit and grime of a dancer's life," she observes. "Perhaps a reason why many of our divas of dance have been single, married or divorced but not mothers."

Mohiniattam guru Mandakini Trivedi echoes Ratnam and says, "Motherhood is not for those think of it as a fetter which will come in the way of your soaring in the sky... It is a beautiful feeling to be a mother who creates life within her, just as it is to create art with one's body on stage."

She took a seven-month break when her son was born and remembers how difficult it was to get back to the regimen. "The muscles have really poor memory and that is why one trains and trains and trains to achieve perfection."

Does being a mother really make a difference in the way one interprets motherhood on stage? "Just like you don't need to become a demon or devi to play one on stage, I don't think it really makes a difference," says Trivedi, admitting though that she was influenced by her son's birth to choreograph a sequence to the 18th century lullaby by Travancore court poet-composer Irayimman Thampi in honour of the newborn Maharaja Swati Tirunal. "Famous throughout Kerala, Omanathinkal Kidavo describes the baby and compares his face to the moon. As a mother, the emotions in that composition came to me effortlessly."

Odissi exponent Sujata Mohapatra should know a thing or two about that. This daughter-in-law of Odissi legend Kelucharan Mohapatra remembers being encouraged not stop dancing even during pregnancy.
"My father-in-law had a dance school at home. Everyone, including my husband, was dancing. No one would push me… maybe I took it easy but giving it up completely even briefly was a thought I couldn't even bear."
Perhaps that's what gave her daughter Preetisha lessons in the womb itself. "On the 21st day after she was born I was dancing again," says Sujata. "Guruji (Kelucharan Mohapatra) would dance and keep picking up his granddaughter."
It was this special feeling that led him to compose a piece for Sujata around Yashoda and Krishna. "Even when Preetisha was barely crawling, the moment I did that routine she'd come to me, insisting on being Krishna."
She hopes Preetisha too finds a balance between her art and life. "I see how both are equally important and it's possible to balance the two. If she can still do it, why can't I?" laughs the daughter giving her mother a tight hug. Does she worry about comparisons? "I know it's bound to happen as I carry the legacy of not only my mother but my legendary grandfather too. Every smile, gait, sway, eye movement is compared. And I know I may not be making the mark," she says, quickly rebutting any talk of bitterness on this account. "It simply means the bar is set higher for me and reaching there will make me a better artiste."
Not all such choices end happily though. A senior Chennai-based Kuchipudi exponent remembers the whirlwind romance that led to a fellow dancer marrying one of the biggest names in the Tamil film industry in the late 70s. "They were so lovey-dovey that he even learnt dance from her. This helped him dance realistically in many award-winning films," she remembers. "Things soured in five years when she said she didn't want children as it would rob her of form. In search of familial bliss, (he was) drawn to a Hindi film actress on the sets of a multi-starrer where they had lot of time to themselves and they had an affair." The decade-old marriage eventually ended in divorce.
But back in a Santa Cruz flat, such unhappy tales seem far away. The aroma of freshly cooked rice fills the room as four-year-old Kabir leaps into his dancer mom's arms, his laughter merging with the ghungroos playing in her head.
The Mother Goddess & the cosmic dance
Leading Bharatanatyam dancer-choreographer Alarmél Valli says dance and motherhood both deal with creation. She feels compositions paying homage to the Mother Goddess have always struck a special cord with audiences. "We have had a culture of Shakti worship which predates Aryans . How can that go away? Later, consortification where goddesses became spouses may have tried to make them mere partners of their lords but in those matriarchal times it was women who wielded power and it isn't surprising that they were worshipped the way they were," she explains."We have had a culture of Shakti worship which predates the Aryan civilisation.
How can that go away? Later, consortification where Goddesses became spouses of the Gods may have tried to make them mere partners of their Lords but in those matriarchal times it was the women who wielded power and it is not surprising that they were worshipped the way they were," she explains and speaks fondly of the Goddesses who have made a permanent place in her heart. "I can pray anywhere but there is some thing ethereal about the beauty of the Kanyakumari Amman, the Devi at Kanchi and the small Shankmukh devi temple at the beach on Trivandrum which will make me want to keep going back.
Always one to pick up compositions dedicated to her ishtadevta she speaks of one where the devotee treats the Goddess as her daughter. "Come to me she pleads as she tells her, 'I will not draw kaajal on your lotus eyes, I will not put put a tika on your crescent forehead, I will not bedeck you in silken raiments and finery and refuse to play with you if you don't come to me,' she says and goes on to plead, 'Oh toddler of the Himalayas you are the Mother of all that is, Why have you forsaken me so?" Valli explains how this movement from treating the Goddess as daughter and then going into complete surrender at her feet makes this composition from Sangam literature her most favourite.