...jokes Oscar-winning actor-filmmaker Clint Eastwood as he talks about dealing with growing old, on screen and off it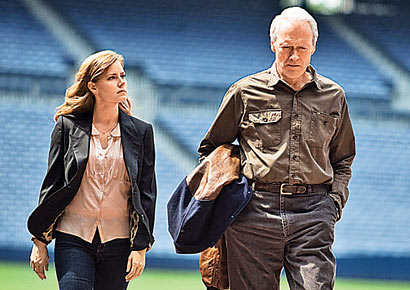 It's been a while since actor-filmmaker Clint Eastwood made a big screen outing after 2008's Gran Torino, and even longer since he's acted in a film that he's not directing. But the veteran actor, who let the reins into the hands of director Robert Lorenz for his latest flick Trouble With The Curve, admits that it was a relaxing experience. Here, he talks about his new release and also reveals his aging fundas...
What is your relationship with aging, the pros and cons?
Am I aging? The pros and the cons, well you know a lot more, at least until the time you start forgetting it all. Actually, aging can be a fun process to some degree, but ask me a year or so from now and I'll try to give you the same answer.
How do you stay in such great shape?
Just exercise a lot, play golf with Mr Timberlake (co-actor Justin Timberlake). That's what we did in our spare time down there. Also, salmon and broccoli.
Was it fun or scary confronting 'aging' with your role in Trouble with the Curve?
Hey, you get to a certain age, you're just glad to be there. I don't know what to add to that. It's fun. You have to be a realist, so you try to look for roles that are around your age. It'd be kind of ridiculous if I say, "Well, I want to play this 35-year-old guy" or something like that. Be realistic about where you are in life and enjoy it. I've enjoyed the journey to this stage so I intend to enjoy the rest of the journey, a long one I hope.
This is the first time you've acted for a different director since In the Line of Fire in 1993. After so many years of being your own director, what adjustments do you have to make?
I had to make no adjustments at all because I've always maintained that there's more than one way of doing things. So, I just put it in my mind that somebody else is going to pilot the ship. It's actually quite relaxing because I can just sit back. I probably won't do both again, at least for the moment, but I said I wasn't going to act again a few years ago and that changed too. Sometimes you just lie a lot.
Has your working relationship with director Robert Lorenz changed? Was it difficult to turn over the reins?
Oh, it's gotten horrible. I had to listen to everything he said. Actually, he's terrificand did a terrific job. Rob's been making noises about wanting to direct for some years now and when this project came along, it was what I wanted to do. After Gran Torino, I thought this is kind of stupid to be doing both jobs. I've been only doing it for some 40 years and I thought I should just do one or the other. It allowed me a little bit of comfort zone. So, this was an opportunity for that and he stepped right in and just took over. I didn't have to do anything. Watch Amy (actor Amy Adams) throw the ball.
What has kept you passionate about your career?
It's just that acting gets in your blood after so many years and you just always like revisiting it. It's fun to meet new people and watch them coming along at different stages of their career.