A recent survey says that cartoon character Chhota Bheem is like the Salman Khan of the small screen. Here's why…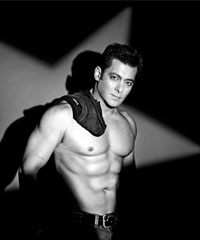 According to a recent Cartoon Network Gen-next report, the superhero of Dholakpur, Chota Bheem, is the animated equivalent of Bollywood super hero Salman Khan. Chhota Bheem is hugely popular with children and adults alike. But what makes him the Dabangg Khan? Here's looking at the similarities...
Body that's far from shoddy!
Both the big and small screen heroes are blessed with the best bods and aren't afraid of flaunting it… Bheem is always dressed in an open shirt and and we think he carries off the cute-sexy avatar rather well.

So macho!
Like Salman, Bheem also has muscle power and hates the bad guys. He beats up the baddies effortlessly by using brains and brawn power, ishtyle mein.
CHo CHweet!
The similarities between Bheem and Salman extend even offscreen. They both have a sweet tooth. While Bheem loves to devour boondi laddoos, Salman has
a weakness for a chocolate called Rolo.

Single. Ladies are you listening?
They are both single, which is yet another big draw for the girls. Also Bheem is the wittiest and bravest guy in his village — all of which are also Salman's traits. He's a stand-up guy and known for his devilish sense of humour.
Screen style!
If Salman's films have drama, comedy, songs and dance, so does the hit TV show. Our little star from Dholakpur may not be as groovy and experimental as Salman on the dance floor, but he sure is the song and dance types. The catchy Bheem Bheem Bheem song is as contagious and cool as any of Salman's song which stay in your head.