The actress who is in search of peace and tranquility is also sure she can fit into a Bollywood film if she gets a good opportunity.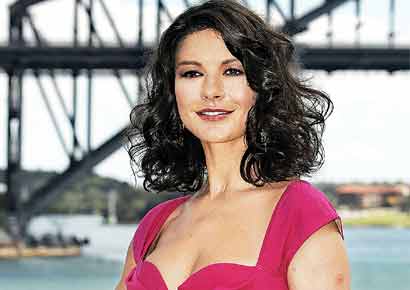 Hollywood star Catherine Zeta-Jones says she is planning to visit India to attend the Kumbh Mela, starting on January 27, in search of "peace and tranquility". She is also sure she can fit into a Bollywood film if she gets a "good opportunity".
She is planning the trip with her husband Michael Douglas, and her children.
"Personally, I've been going through a tough period in my life. What I require for my mental health and well-being is some peace and tranquillity. I swear by yoga, which I believe has its roots in India. So I really want to visit India again specifically during the Kumbh Mela pilgrimage and I am told it is a sight to behold for the eyes and soul," said the actress in a statement.
"I'm hoping to find what I'm looking for here. I'm trying to make this happen with my family. If that doesn't work out I'm definitely coming on my own," added the 43-year-old.
If it materialises, this will be the actress's second trip to the country. She had last visited in 2008, and was smitten by the beauty of Rajasthan and even visited Mumbai.
She recalls, "Both the places were so different from each other. Rajasthan is as beautiful and bright as the people there. The state is so colourful despite the fact that the state for the most part is a desert which is cold and staid. Bombay (Mumbai), of course, has a charm of its own. Like I said, my next trip is planned for Kumbh Mela 2013."
For now, she is looking forward to the release of her new film Broken City, which hits theatres January 18.
In the film, she plays a politician's wife, who shares a complex relationship with her husband.
"My character in the film is a catalyst. I'm playing the role of the Mayor's wife. She has a complex relationship with her husband as is often the case with real life political couples. Politicians' wives sometimes put on a face to protect their partner... It was very draining emotionally to play such a character. So nothing as heavy for me for a while now," she said.
She started her career at a young age, and earned success and fans with films like The Mask of Zorro,Entrapment and Traffic. She has won several awards over the years - but she wants more in terms of role even now.
"I remember coming here to the film industry and joining a list of girls from different parts of the world all trying to prove themselves. I feel thrilled that Hollywood accepted me and I got to play the kind of roles that I did. I guess as an actress, you try and reinvent yourself with each new role. So yes, I would like to sound greedy and say I am still waiting for meatier roles to come my way," she said.
"I would love to try my hand at more European movies and probably act in a comedy with Michael (Douglas). Now that would be exciting," she said.
As far as Bollywood is concerned, she said: "Considering my musical experience, I think, I fit into Indian movies perfectly. I am not very familiar with actors but would love to work with some if a good opportunity comes."