The actress explains her changed look with bizarre excuses like...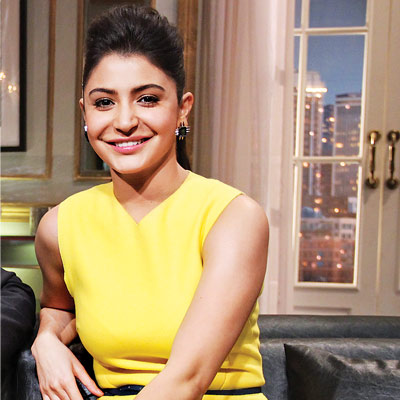 It's a temporary lip-enhancing tool
It's a make-up technique
It was done for my look in Bombay Velvet
On Sunday night after the episode of Anuskha Sharma on Koffee with Karan was telecast, the world wide web went berserk poking fun at the actresses' changed look. There were jokes about her suddenly pouty lips and her changed facial features. On Monday night, the actress decided to address those digs. But instead of coming clean, she made matters worse by giving bizarre explanations. It would have been so much better if she had simply maintained silence on the subject rather than making matters worse. Read on for excerpts of her version on her changed appearance...
"Aellooooo everyone!! Today I am here to talk about my lip!! Yes! My lips! Lately there has been a LOT of talk about me. Mainly regarding my lips. I am here to just convey what I have to say regarding the same.
I am talking about it only because this story has taken a scary direction and things have been 'blown out of proportion' (pun intended).
For a short while now I have been using a temporary lip enhancing tool and that along with make-up techniques (I have learnt over the years) is the reason why there might be a change in the appearance of my lips. Having stated this fact let me very vehemently assure everyone that I have by no means gone 'under the knife ' or done any kind of 'plastic surgery' or undergone any intrusive procedure. This was my decision and was done for the sake of my look in my upcoming film Bombay Velvet, a period drama where I play a jazz singer in the 1960-70's. And it was taken from the referencing of that time.
The drastic change in my appearance on KWK is due to lot of factors put together and not just my lips. Everyone goes through good and bad days. Did I think I looked good on the KWK episode? NO. I do feel I could have done things differently. To put the current conjectures and reportage straight once and for all from my end — I have said this before and am saying it again. I do not believe in plastic surgery or any other means of unnatural permanent changes to the body. I do not support it or stand for it or recommend it.
Now if someday my legs appear different and sexy to you! Please don't say I've done 'Something'... Oh! And also... Some of the 'joker' jokes/memes doing the rounds though a bit mean did bring a smile to my lips ;)
—Anushka Sharma
The bravehearts
It was Shilpa Shetty who really brought plastic surgery out of the closet by admitting publicly to a nose job. And now with her hot bod and charming smile, fans hardly complain.
Shruti Haasan got her nose job done just after her Bollywood debut. Unlike other actresses, she confirmed her cosmetic surgery but stated health as reason for it.
Koena Mitra's filmi career fizzled out due to her blotched up nose job. However, the actress braved up the criticism by not hiding anything and coming out clean on the subject.
They did it too!
Bugged!
At the peak of the Hrithik Roshan-Barbara Mori affair, Sussanne Roshan walked out of the house with her kids and checked into a five star hotel. The Roshans gave an interview attributing her hotel stay to termites in the house. They explained that pest control was being done in the house so Sussaanne and the kids could not
stay there.
Bitten!
A few years ago when Kangana Ranaut's lips began to look three times their size, she came out with this explanation, "I have shell fish allergy." Amazingly enough, she couldn't not find the right meds for it for six months following the allergic reaction, and walked around with a fish (pun intended) pout, till the fillers wore out.
Bloated!
When Jacqueline Fernandez emerged one night with Donald Duck-inspired lips and frozen facial features, it naturally triggered off talk of enhanced lips. She had an explanation ready. She claimed that she was unwell and had popped some antibiotics which reacted badly and caused swelling. How innovative.