Move aside heroes, the actresses are gearing up for some big-time action.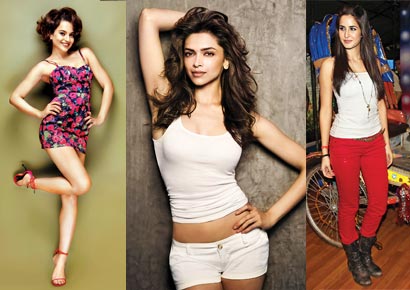 2013 is promising to be one action-packed year. While the big screen will have its share of testesterone-loaded action dhamaka, our Bollywood heroines too are gearing to kick butt. A look at the forthcoming films reveals that when it comes to action, they are ready to give tagdi takkar to their male counterparts at the box office.
Leggy lasses Deepika Padukone and Jacqueline Fernandez will be seen in their action avatars in Race 2, while Bollywood hottie Priyanka Chopra will kick butt (literally) as a boxer in Sanjay Leela Bhansali's biopic on Olympic medalist Mary Kom. After the action thriller Ek Tha Tiger, Katrina Kaif will be back doing more stunts in Dhoom 3 and also the Bolly remake of Knight and Day.
Besides Krissh 3, where she will be seen in action, Kangana Ranaut is also undergoing intense training for her role in Revolver Rani. Juhi Chawla and Madhuri Dixit too will be making action outings in Gulab Gang.
"Yes, action will be the flavour at the box office next year, as almost all A-listers are doing action-oriented films. But, what's really exciting is that heroes apart, it is the heroines who are donning the action suits. It's an encouraging sign for our industry that is thinking out-of-the-box when it comes to roles for women. Action is considered a male domain, so it's good to see actresses 'halla bol' here," agree trade analysts.
"What's even better is that the actresses themselves are not shying away from shedding inhibitions and going for such roles," they add.
For Katrina Kaif, the thrill of doing such adrenaline-pumping sequences was one of the reasons that led her to do such films. "As an actress you always want to move away from the comfort zone and try to surprise the audience. I think an action role does that!" says the Bolly star.
Filmmakers Abbas-Mustan say that actresses today are extremely health conscious which makes them look convincing as femme fatales. "Deepika was as enterprising as the male-counterparts when it came to doing her stunts. And she is not afraid to really bring out that facet of her personality," they share.
Trade analyst Komal Nahta feels that more than the actress, it is the audience who get shaken out of their comfort zones by watching the heroines in this avatar. "So far, no matter what the genre, there were rarely any films where the actress was seen doing the action. So, be it action, romcom, drama or a love story, the heroine would move only in that much parameter of performance. But with them getting into the action mold, things will be different for them and the audience. Besides, most look like they can kick butt for real too, so that makes it more interesting," says Nahta.
A leading actor says, "It's nice to have women do what so far only we could. Enough competition from men, it's time the actresses bring it on now!"