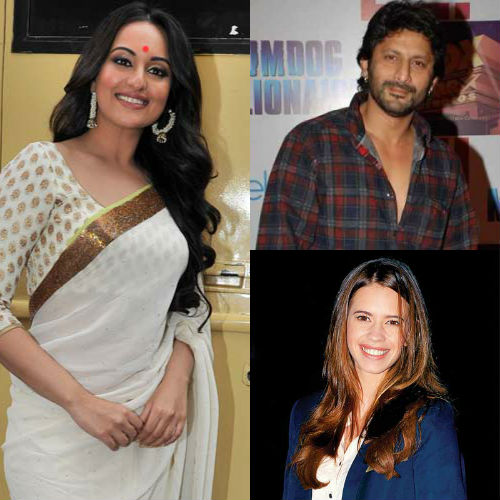 As B-town celebrated Holi on Monday, many celebrities including actors, producers and directors wished people on the joyous colourful occasion of Holi.
They tweeted out wishes to friends, family and fans on the occasion.
Some tweets included safety messages and some were just wacky with inverted messages by actors such as Arshad Warsi for fun.
Here's what they had to say in 140-characters to fans:
ilo? ?dd?? ???g ??il ??ln eg?sse? as ????? i? ?euid gu???q ???os

— Arshad Warsi (@ArshadWarsi) March 17, 2014
Happy holi beautiful people. Remember the best colors u can apply on someone r d colors of laughter and love! Go have FUN today!!

— Hrithik Roshan (@iHrithik) March 17, 2014
Happy Holi everyone! Paint the town whatever colour u want, but be safe :) #Holi #colours #fun http://t.co/lNir5dbrrz

— Sonakshi Sinha (@sonakshisinha) March 17, 2014
"Human blood is all of one colour." Happy Holi.:)

— Anupam Kher (@AnupamPkher) March 17, 2014
May the Vivid Colours of the Holi Decorate your life and family With colours of happiness and Fun Happy Holi!

— Madhur Bhandarkar (@mbhandarkar268) March 17, 2014
Happy Holi to one and al!!!!!!!

— boman irani (@bomanirani) March 17, 2014
Are you ready to holi? pic.twitter.com/tZeCfnGaqS

— Kalki Koechlin (@kalkikanmani) March 17, 2014
Lessons of Life: Joy innocence and play. The essence of philosophy for today. Happy Holi everyone

— Shekhar Kapur (@shekharkapur) March 17, 2014
T 1419 -The oncoming festival of 'HOLI' ... wishing all colourful, happy and joyful years to come ...may your lives be ever filled with joy

— Amitabh Bachchan (@SrBachchan) March 15, 2014
#happyholi friends .... Have a blast , enjoy ur day ! But most importantly stay safe .... #love

— Neha Dhupia (@NehaDhupia) March 17, 2014
Wishing the #Youngistaan of India a very very happy holi !!!!!!

— Jackky Bhagnani (@jackkybhagnani) March 17, 2014
Wish you'll all a very happy holi:) Love this festival... Been years since I've played holi though! Tempted this time:)))

— Punit Malhotra (@punitdmalhotra) March 17, 2014
Happy Holi everyone. In Singapore, they definitely won't appreciate it here. So have a blast and throw some extra colour from my side.

— arjun rampal (@rampalarjun) March 17, 2014
Happy Holi everyone!! Have fun, dance, play safe but pls don't waste water & don't take advantage of women!! ????

— SOPHIE CHOUDRY (@Sophie_Choudry) March 17, 2014
Holi is a fun festival to celebrate with friends & family, it's not an excuse to harass/molest women. Make sure YOU keep it that way!

— VISHAL DADLANI (@VishalDadlani) March 16, 2014
HOLI! Be safe. Don't waste water. Use organic color that doesn't harm the environment or your skin & don't put colour on animals.

— ? Anushka Manchanda (@IAmAnushka) March 16, 2014
Widows play with colours this holi at Vrindavan - our country is definitely coming of age - splash colour - spread love - Happy Holi

— Riteish Deshmukh (@Riteishd) March 17, 2014
Read: Load your playlist with peppy Bollywood songs for Holi celebrations
With agency inputs.