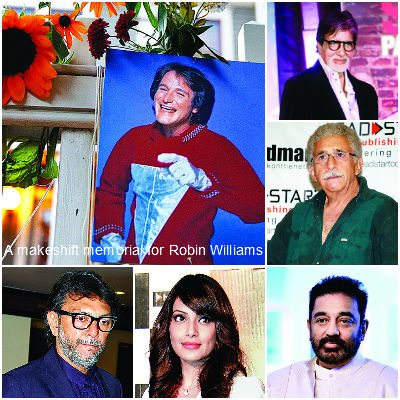 Oscar-winning actor and stand-up comedian Robin Williams was found dead on Monday at his home in Northern California from apparent suicide. He was 63. Known for his early television work like Mork & Mindy, the talented actor went on to do several acclaimed movies like The World According to Garp, Good Morning,Vietnam, Dead Poets Society and Good Will Hunting that won him an Academy Award for Best Supporting Role. His hilarious drag act in and as Mrs Doubtfire became iconic. His other hit films include Popeye, Hook, Jumanji, Alladin - he provided the voice of the genie, The Birdcage and Night at the Museum.
Reacting to the news of his death, Bollywood celebrities Amitabh Bachchan, Kamal Hassan, who adapted Mrs Doubtfire as Chach 420, and others pay a tribute to the great actor.
Amitabh Bachchan: Sad...The loss of a great talent. Each film of his was memorable. And his off screen performances on stage as stand-up comedian were the best.
Kamal Haasan: Comedians are invariably critics of society who mask their anger in humour. Constantly sustaining a funny façade leads to depression which probably took his life. Robin Williams' true nature was manifested in his being quick to bring tears. You can see it in his films. He could never become a star in the 1960s when he started. For American film heroes were too scared to cry on screen. The Vietnam war changed the American psyche. Robin brought a dignity to masculine tears. One of my favourite Robin Williams films is The Bird Cage. Though a remake of a French film it was an interesting take on the original. I found Robin doing phenomenal work in a film like 1 Hour Photo. He has bid us an early goodbye. Too early to go, Robin."
Bipasha Basu: He was an actor who would immediately bring a smile to your face. I will never forget him him in Mrs Doubtfire,The Bird Cage and Good Will Hunting. He was charismatic, warm and a fantastic actor. He will be missed by all film lovers.
Rakeysh Omprakash Mehra: Robin Williams lives forever. Dead Poets Society, Alladin, Jumanji, Good Will Hunting and who can forget Good Morning Vietnam ? These were my favourite films. Robin,you are immortal.
Sanjay Gupta: Dead Poets Society and What Dreams May Come are my favorite Robin Williams films. His portrayal of the life-changing teacher in Dead Poets Society remains unmatched. And his performance as the husband who goes beyond life and death in What Dreams May Come still gives me gooseflesh. We've lost a true legend.
Sajid Khan: Like all cinema lovers I am also shocked and sad. He was one of those rare actors who mastered two contrasting genres, comedy and drama. Whether it was Mrs Doubtfire or Good Will Hunting he did every role with equal ease. My all-time favourite Robin Williams film is The World According To Garp.
Bejoy Nambiar: Good Will Hunting and Dead Poets Society are my favourite Robin Williams films. He was an actor par excellence. A true legend. He'll be sorely missed.
Naseeruddin Shah: He was a truly great all-round performer. I guess these guys are not equipped to handle the slightest change of fortune and this angst results in over-indulgence in the psychotherapic shit they seem hooked to.
Ritesh Batra: He was one of my favourite actors. 1 Hour Photo is my favourite Robin Williams film.
Raja Sen : My favourite Robin Williams film is Aladdin, largely because it exemplified his boundless energy. He was a generous gifted performer with a twinkle in his eye and a smile in his heart. The movies will miss Robin Williams.