Twitter has emerged as the hub for celebrities to share their personal views and interact with fans. And now, even their babies have started tweeting.

Shilpa Shetty and Raj Kundra's son Viaan is on Twitter. His bio reads: 'I am just a baby so don't judge me! I love Milk, Sleeping, Cuddling up to my Mum and Dad and want to see World Peace! (ok last one i don't know much about yet)'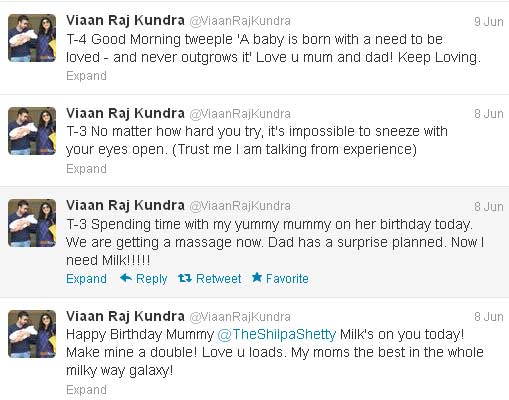 Viaan (@ViaanRajKundra) who is just seven months old has already tweeted 20 times and has more than 6,500 followers. The baby's account displays tweets like, 'Good Morning all a thought for the day. I don't eat junk food and I don't think Junk thoughts! Keep your mind pure and...drink Milk!!! '
Besides this, Viaan's tweets praise his mother Shilpa and ask for more milk. But hey, after the initial amazement, everyone knows it's an adult tweeting.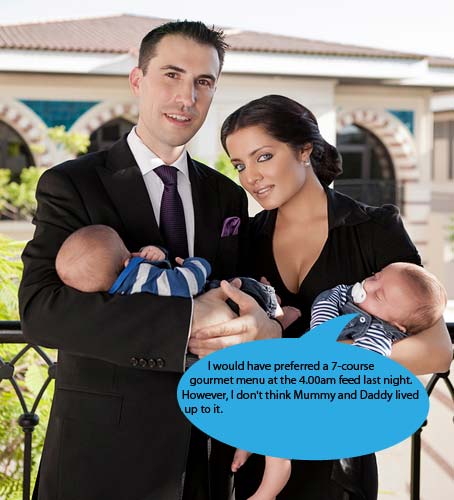 Celina Jaitly may have not had a successful career in Bollywood after her Miss India win but on Twitter she has over 2,70,000 followers. Her twins — Viraj and Winston —both of whom have Twitter profiles, have 400 followers each and tweet almost identical tweets. Yeah they are twins and may not be able to talk but the people who tweet for them don't seem to be creative enough.

Both joined the social networking site on April 8 and tweet identical updates like 'Thank u Mommy's & Daddy's followers. In just 1 day on Twitter we have 100 followers each. Century! Just like our fav Sachin Tendulkar uncle'.

Then there are tweets like 'Do you think Daddy would be mad if I soaked his Blackberry in my bathtub? Just want to see if it works underwater.' from Viraaj Haag.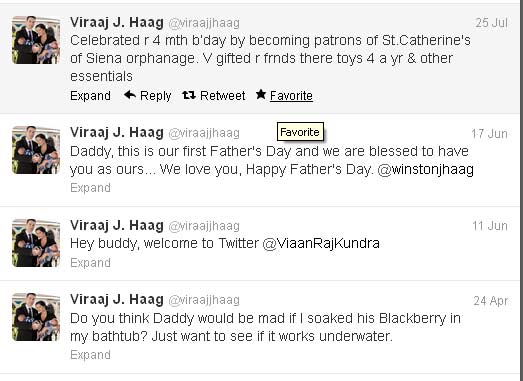 Tweets like 'On the occasion of our 3-week birthday, I am going to ask Daddy that it is high time that we start getting a weekly allowance. #petition' by Viraaj
and
'Just signed my brother @viraajjhaag 's petition to Daddy for our weekly allowance. (It's high time as we are 3 weeks old now.)' by Winston.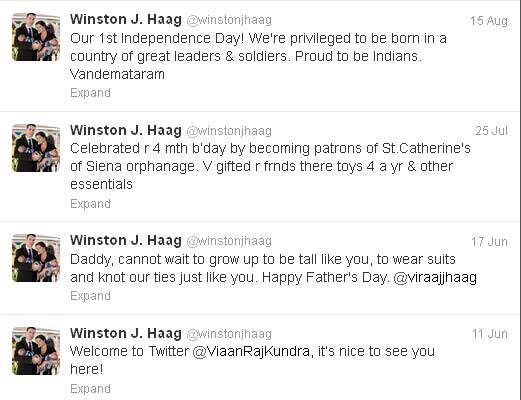 These tweets make you think do babies really think like this?
Sadly, on June 12, Viaan Kundra's profile had a tweet that read, 'Due 2 an inconsequential article in India Today claiming my mum @TheShilpaShetty is seeking publicity,I have decided to stop tweeting. This is my official twitter handle set up by my father which I will use when I am old enough. Thank you all for your love and wishes.'
After that day he tweeted on Aaradhya Bachchan's birthday and sent her a wish. Celina Jaitely's twin sons Winston (@winstonjhaag) whose profile information reads 'India-Austria's answer to 'Spiderman'... @peterhaag 's & @celinajaitly 's bundle of love' and Viraaj Haag's (@viraajjhaag) profile information reads '21st century 'Top Gun'… @peterhaag 's & @celinajaitly 's bundle of love' joined Twitter almost a week after they were born and stopped tweeting after August 15, 2012.

Interestingly, while Amitabh Bachchan (@SrBachchan) and Abhishek Bachchan (@juniorbachchan) are very active on Twitter, there is no sign of Baby Bachchan on Twitter yet. But, a number of fake Aaradhya Bachchan profiles already exist: @AaradhyaB, @LittleBachchan and @TheBachchanBaby.
And all this when the debate is fiercely on whether social network has a good or bad influence on children. And what is the right age for children to be allowed to engage on social network. Bollywood doesn't seem to be setting a great example when it comes to social network and babies, atleast if their children's so called 'tweets' are anything to go by. Surely we all agree that Twitter is no place for a baby.