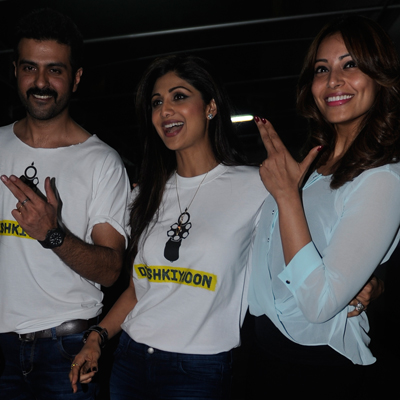 Bipasha Basu whose relationship status for almost 9 years was associated with John Abraham​. While Harman Baweja, on the other hand was dating actress Priyanka Chopra. However early this year it was revealed that Harman Baweja and Bipasha Basu have been in a committed relationship for a while now.
Bipasha Basu took to social media website, Twitter and declared her relationship.
Stating the obvious!Yes Harman n Me r a couple :) Finally I have met a person who is a far better human being than I am.Blessed.

— Bipasha Basu (@bipsluvurself) February 19, 2014
It seems like the relationship has taken full speed, as Bipasha Basu has already started preparing for her wedding. The word is the couple is set to tie the knot sometime next year. But amongst this blooming romance, another budding bond that is being formed between Shilpa Shetty and Bipasha Basu.
Shilpa Shetty who has recently ventured out as a jewellery designer is not only designing exclusively for Bips but is also helping her out with her wedding shopping!