Bhavna Jasra shares the decade-long journey of transformation from a marketing consultant to an impression artist.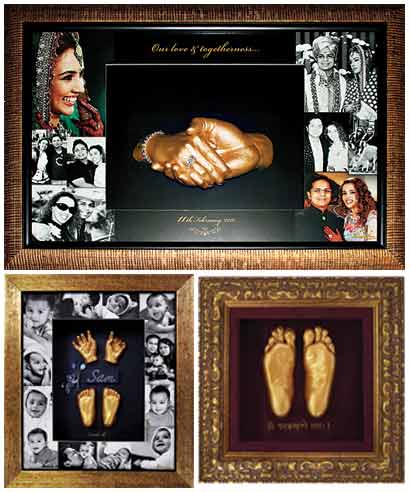 Bhavna Jasra's life changed when her husband whisked her away to London. There at a friend's place she was introduced to an art form that adorns the houses of many celebrities and corporate honchos.
"I launched my business when my daughter was just 11 days old. The first impression I made was of my daughter's tiny hands and feet when she was just a-day old, despite my stitches. After coming from London I was so eager to launch this art form that nothing could come in my way," gushes Bhavna.
Every impression has a story to tell as it is an 'art with a heart' as the artist lovingly calls it. It is a way of encapsulating memory of someone special for eternity. "Anjali wanted to welcome Sachin Tendulkar home after the 2003 Cricket World Cup with something special. But she was in a fix as to what one should gift a man who has everything that money can buy. Then she spotted my work on the walls of her friend's house and welcomed home the proud father with impressions of their children."
Similarly her frames also immortalise love by capturing impressions of couples holding hands. Bhavna narrates another incident when Rani Mukerji, who spotted the impression of Sanjay Leela Bhansali holding hands with his mother, immediately made up her mind about what she was going to present Aamir Khan and Kiran Rao as their wedding gift.
Bhavna recently opened her studio at the Dhirubhai Ambani Hospital so that the parents can get hand and feet impressions of their newborn. Her art form, which is as old as her 10-year-old daughter, has changed with time. "Today luxury has gone to a different level altogether. So, I have even started using Swarovski crystals and diamonds along with gold," says the artist who feels that her artwork's value increases with the passing years.