Actress Lara Dutta-Bhupathi talks about the importance of exercising and being fit even during pregnancy.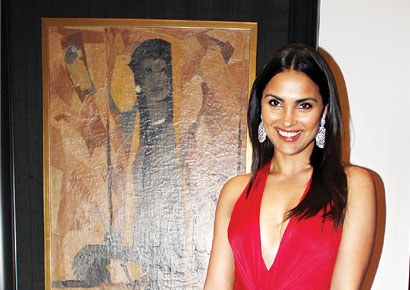 You can keep fit even when you are pregnant, feels Lara Dutta-Bhupathi and the actor who works out in spite of her pregnancy reveals that it's a simple formula too. "Being fit is no more an option, but a necessity," says Lara. "I work out for an hour daily, sometimes more. In addition to yoga, I also do cardio and make it a point to walk for 30 minutes everyday," she adds.
The trick is to keep your body guessing, explains the actor. "For better results you need to keep your body guessing by challenging it before it gets comfortable with any particular routine. It is best if you gym with a variety of cardio machines one day, next day, should be swimming, third day could be simply climbing stairs in a mall while you are shopping," she says. But it's always better to use some guidance, the actor's quick to add. "It is better to work out safely and under guidance."
As for her own workouts, Lara reveals that she depends on yoga. "Yoga is an integral part of my daily exercise routine. I believe it plays a major role in moulding a lifestyle that represents a fit body, mind and spirit. A yoga DVD for expecting mothers is a great idea. Let us see how things work out in the future," she says.
The best meal for expecting mothers, says Lara is a healthy breakfast. "I attribute weight management to smart eating. I start my day by eating a fat-free breakfast, as part of a healthy lifestyle. A balanced diet along with regular exercise can help regulate metabolism. I break my meals into smaller ones and control my portions. I ensure I drink at least six to eight glasses of water daily as well. Yoga and cardio are integral parts of my exercise routine.
This helps me maintain my figure and feel fit every day," she says.
The breakfast is something that one should not neglect ever, says Lara. "One of the easiest ways to kick-start your metabolism is by having a healthy breakfast. Research shows that people who eat a low-fat breakfast tend to be slimmer than those who don't.
Eating a low-fat breakfast which has protein and fibre — with fruits and milk helps me get through my morning chores and fuels me up with energy," she shares.