Raj Thackeray is aggressive, Uddhav Thackeray is understated. Sharmila Thackeray is the happy-go-lucky homemaker, Rashmi Thackeray is the woman firmly behind her husband's political ambitions. A glance into the personalities of the two women behind the week's biggest newsmakers…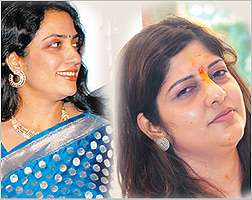 Raj Thackeray is aggressive, Uddhav Thackeray is understated. Sharmila Thackeray is the happy-go-lucky homemaker, Rashmi Thackeray is the woman firmly behind her husband's political ambitions. Neeta Kolhatkar glances into the personalities of the two women behind the week's biggest newsmakers…
The story goes that when the current Congressman and revenue minister Narayan Rane was expelled from the Shiv Sena in July, a restless Rashmi Uddhav Thackeray was in the lobby of a seaside five-star hotel in Mumbai waiting for hours on end to meet his sons. It was on July 26, the day Mumbai was under 944 mm of water. The reason? She wanted to send a message across to her close friend and Narayan Rane's wife Neelam.
Sharmila Raj Thackeray was at her Shivaji Park's flat speaking to close friends, handing out dinner packets and medicines to police constables who were guarding her uncle-in-law, Bal Thackeray's Kala Nagar bungalow Matoshri. Thackeray Sr himself was esconced at his nephew Raj's residence for eight days.
There they were, the two Thackeray bahus, on the same day, but both showing contrasting personalities - one the tough, go-getting wife of an heir to a political legacy, and the other a homely, happy-go-lucky wife of an aggressive politician. Both grounded in reality, and both, from all accounts, equally warm and friendly.
Some Sena insiders have accused Rashmi to be the cause of a split between her husband and her cousin-in-law - it is she, they say, who controls the man poised to take over one of India's most prominent political parties. Her friends have a different story.
Anita Shinde, for instance, says she will continue to be friends with Rashmi because "we don't bring politics between our relationship." Anita is the wife of Shishir Shinde, a Shiv Sena man close to Raj Thackeray. "Rashmi said despite whatever happens between our husbands we will always be good friends."
Rashmi's image among outsiders is that of a recluse, a person always on the guard. Her friends say otherwise. Rashmi is not available to the media for interviews, but Vishakha Raut, a former Sena MLA, had this to say: "This year I could not go to Matoshree during Diwali, as my father had passed away. Rashmi called to say she had waited. But when she came to know about my father, she sent gifts for all of us. I was touched."
Ever since Thackeray Sr has handed over the Sena's functioning to son Uddhav, many say the latter is a changed man, mostly because of Rashmi. Rivals even allege Rashmi is an ambitious lady, the woman behind her husband's quest for unchallenged power. Friend Anita Shinde, though, says she is not really how it is made out to be. "She is an aware person. But I am pretty sure she has had no hand in Raj's rebellion."
Senior party leaders, on the other hand, say Rashmi is a politically aware and active person. In fact, it was Rashmi who asked a few women Sena corporators loyal to Raj to call on him after his rebellion last week.
"She treated us well and gave us saris. She told us we should convince Rajsaheb not to leave the Sena," said one corporator. She also may have a soft corner for Raj since one of his relatives had introduced her to Uddhav.
A fan of classical music, Rashmi is a good ghazal singer, her friends reveal, with her favourites being Kishori Amonkar and Ghulam Ali, the Pakistani ghazal singer. "Rashmi was keen on going for a Ghulam Ali show some years back," says a friend, "but had to miss it since the Sena had banned his concerts in the city."
Sharmila, meanwhile, is effervescent, elegant, and warm. Friends say she has never been conscious of being a Thackeray daughter-in-law, and has no qualms about being a homemaker.
A Dadar native, Sharmila's family is steeped in Marathi culture - her father Mohan Wagh is a well-known theatre personality. The family legend goes that before they got married, Sharmila used to visit Raj's mother when she was hospitalised. At the time, she was looked upon as a prospective bahu. Her would-be mother-in-law asked her whether she knew how to cook. Sharmila said she was not interested in cooking. But now, it is she who takes single-handedly takes care of the Krishna Kunj household at Shivaji Park.
A domestic help says: "No one is ever left unattended in Rajsaheb's house." A senior Bharatiya Vidyarthi Sena leader says: "Vahini (sister-in-law) sees to it that every domestic help, driver, friends and workers have eaten and are taken care of." When Vishakha Raut recently visited their place, Sharmila made brownies for her. "It was overwhelming," she says.
Friends say she leads a normal life, otherwise too. "She hates being favoured upon by shopkeepers," a relative says. "I have never seen her using her famous name."
A health freak, Sharmila takes walks at Shivaji Park, and like a typical homemaker asks of her friends who sit there.
Sharmila hates to admit this, but friends say she often does social work without taking credit for it. "Two years ago a girl was hit by a car and her family didn't have the money for surgery," a cousin narrates. "Hearing this, Sharmila went over and helped the family. Even after paying up, she continued visiting the girl every day."
The Thackeray family may be divided these days, but it is these women who are keeping up the sanctity of their homes.