As 2013's 'Bigg Boss7' , with its fair share of controversies, nears its end next week here's a lowdown on some of the biggest scandals that rocked reality shows over the years.
The SIM funda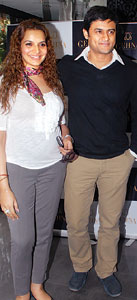 Manav Gohil and Shweta Kawatra were embroiled in a SIM card controversy when they participated in Nach Baliye 2. As the competition neared its finale, the couple was alleged to have purchased 200 SIM cards and distributed to their friends who could vote and help them win. The couple was questioned by the police. Though they managed to come out of it unscathed, they were ousted in the subsequent episodes.
MMS going viral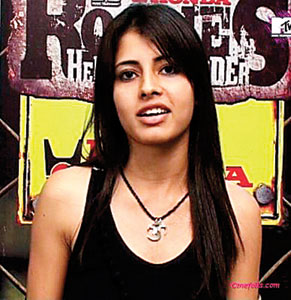 While Splitsvilla brought out allegations of sexual favours, MTV Roadies 6 had a steamy MMS of a contestant lookalike going viral. There were reports that a girl captured in a sex tape had a resemblance to a contestant Tamanna. The distraught girl, however, denied it completely and blamed co-contestant Palak for spreading the clip. She in turn alleged that there was a sex tape of Palak with another contestant Bobby doing the rounds. The public pow wow between the two got wide coverage .
Dating drama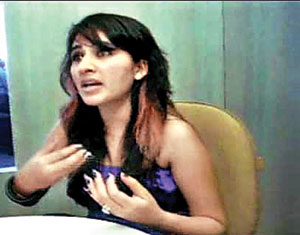 One of the contestants of MTV Splitsvilla 2, a dating show, revealed that the mantra of winning was sleeping with the key persons associated with the show. Swagata Shah, who was part of the reality show's second season, alleged that the finalist was chosen from the director's bedroom. Not only that, she also went on to say that a top contender of the show as well as the winner were seen with some production people besides the director. Even VJ Nikhil Chinnappa's name cropped up in the unsavoury means of deciding the finalists. Of course, the channel denied it, while other contestants dubbed it as a case of a loser's bid to gain publicity.
Doing the full monty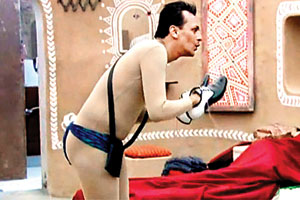 While Dolly Bindra was known to pick fights and be a loud-mouth in Bigg Boss 4, Imam Siddique in a burst of anger against housemates Aashka Goradia and Nirahua went a step ahead in BB6. Not only did he break vessels and pots, he also started stripping his clothes in front of the camera. In fact he appeared in a tight skin-coloured body suit that gave the impression of him being nude! His outrageous behaviour had Bigg Boss unceremoniously throwing him out of the house. It's a different thing that a couple of days later the fashion stylist was apologetic about his behaviour and back in the house, no doubt to provide the much-needed drama in the show.
Rahul's woes with his dulhaniya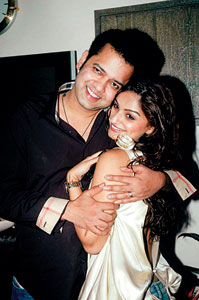 When Rahul Mahajan chose Dimpy Ganguly as his bride after a Swayamvar on national television, Nikhunj Malik, who was one of the finalists gave out shocking details of Rahul being drunk most of the time on the sets. She further accused Dimpy of being sloshed and allowing Rahul to take liberties with her on the show. Moreover, four months after the couple tied the knot, Dimpy ran away from the house, called the media and accused Rahul of domestic abuse! After playing out the drama in public, the couple patched up within a week, leaving everybody wondering if it was a publicity stunt as they were seen next in Nach Baliye!
Yeh kaisa insaaf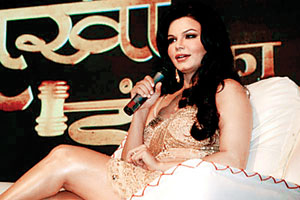 Controversial from the word go, Rakhi Ka Insaaf hosted by Rakhi Sawant had the drama queen trying to solve domestic problems and meting out justice, Rakhi style. The show was slammed by the court for offensive language used by the item girl, especially when one of the participants after suffering humiliation from Rakhi, tragically committed suicide. The youngster had gone along with his wife to solve their marital issues and during the course of discussion Rakhi called him namard. His family alleged that he had gone into depression after appearing on the show and had stopped eating before giving up on life.
The steamy massage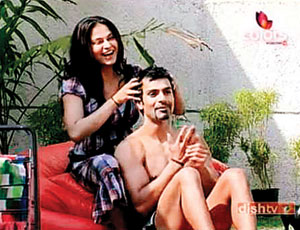 If you are scandalised by the news that Gauhar-Kushal were locked together in the bathroom for 15 minutes, you haven't seen Ashmit and Veena's steamy massages and passionate embraces in the show's season 4. Veena grabbed headlines several times, once while giving a head massage to a bare bodied Ashmit. Well, it was just a massage but the hot Pakistani actress managed to make that simple task steamy. Once she and Ashmit were seen in an intimate position, much of which wasn't shown on TV. The actress is also said to have had a wardrobe malfunction in the house, when her towel and her top slipped off leaving her naked for 10 secs! Of course, that part was edited.
The shaadi that never happened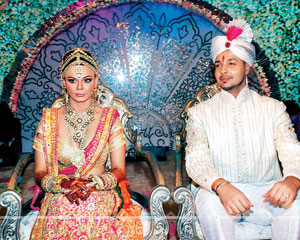 When Rakhi Sawant announced her Swayamvar on national TV there were sneers and smirks. Nobody believed Rakhi would actually end up marrying one of the suitors. And sure enough she only got engaged to Elesh Parujanwala, a Canada-based suitor. Rakhi claimed that she wanted to get to know him off the camera before committing herself to him. The duo participated in another reality show Pati Patni Aur Woh and by the time it ended, the pair had broken up. Many said that Rakhi did the show for money while Elesh was a part of it to gain publicity. What's more, much before all this drama unfolded, a news channel conducted a sting operation and revealed that her swayamvar was scripted. Some of the contestants, who were evicted from the show, said the show was pre-planned and confessed that Rakhi was not going to marry any one from amongst the contestants! In fact, one of the contestants Ather Parvez was said to be already married with kids!