Supriya says, the fact that social media websites have become platforms to showcase only the high points of their life, is not unheard of.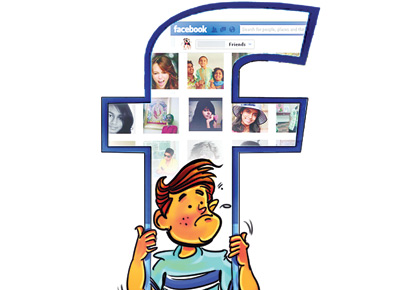 They created an upsurge in the Middle East, helped start-up businesses gain popularity, boosted celebrities' social status but apparently hasn't helped the youth understand the difference between social and emotional relationships. Many argue that social websites are called 'social' for a reason, because for personal interactions people always turn to their close friends.
Clinical psychologist Supriya Nair asks, "What if your confidant is addicted to these social media websites and is too busy to pay any attention to your problems?" She elaborates, "The American Psychological Association (APA) communicates that people connect at two levels — one when they know of somebody's existence, and the other when they emotionally connect with them."
She says that many people are socially connected but emotionally there is still a vacuum. Amit Phansalkar, a software engineer and social media user, says, "It's hard to discuss social issues in generic forums. It's very much like an online college canteen. It has evolved as a place to keep track of (mostly good) things happening in other people's lives."
Supriya says, the fact that social media websites have become platforms to showcase only the high points of their life, is not unheard of. "In interpersonal interactions, you can see the peer not doing so well in his/her life and that's when you realise that, yes, everybody has a grey side. But on social media, it all looks white!" she says.
This mirrors the 'festival syndrome' — during festivals people who feel low think that everybody is enjoying except for them, which sows the seed of depression. "The same phenomena is seen on social media websites, known as a 'socially desirable phenomenon', activated by the social media."
Although, online users assert that networking websites are merely used to connect with friends and family. "I feel connected with my friends because they're always there for me on social media. I only expect a delayed response," says Brian Carlvalho, a digital marketing executive and an avid Facebook user.
A delayed response to an expression is what Supriya calls a 'reaching time gap'. "So, when I require an immediate response, I don't get it and even when I do, I get a very generalised response. Thus,there is a loss of energy and instead of community expansion we are seeing community erosion," she says.
Tanvi Mallya, a masters student of neuropsychology, however looks at it more optimistically, "Well, most people don't put up very serious updates but they do put up their feelings online. Now you know if someone is feeling sad through their status messages, posts or shares and their friends might call and check on them" she says. But who do youngsters go to if the problem are more serious, for example, mental trauma?
"Since they have already communicated with people on social media, they are pressured to keep that social space alive and therefore there's an inhibition to reach out at a personal level," reasons Supriya. To keep a balance between the social and emotional aspect of being, Brian concludes, "Social mediums are supplements, like how telephones used to be. It's necessary to have some interaction outside of a social medium to take that interaction forward online. We don't only exist as virtual avatars."