The 'Arrow' panel at this year's Comic-Con unveiled some big plans for the direction of the show, on Friday. To promote the spin-off show 'Flash', there was a two-hour crossover event announced which will occur in the 8th episode of both shows. There will be a lot of continuations between both shows, as Emily Bett Rickards who plays Felicity Smoke on 'Arrow', will visit Central City in episode 4 of the 'Flash'
"We'll be seeing people from both shows crossing over," said Andrew Kreisberg, an executive producer on both shows. "Everyone will get a taste of each other — that sounds wrong."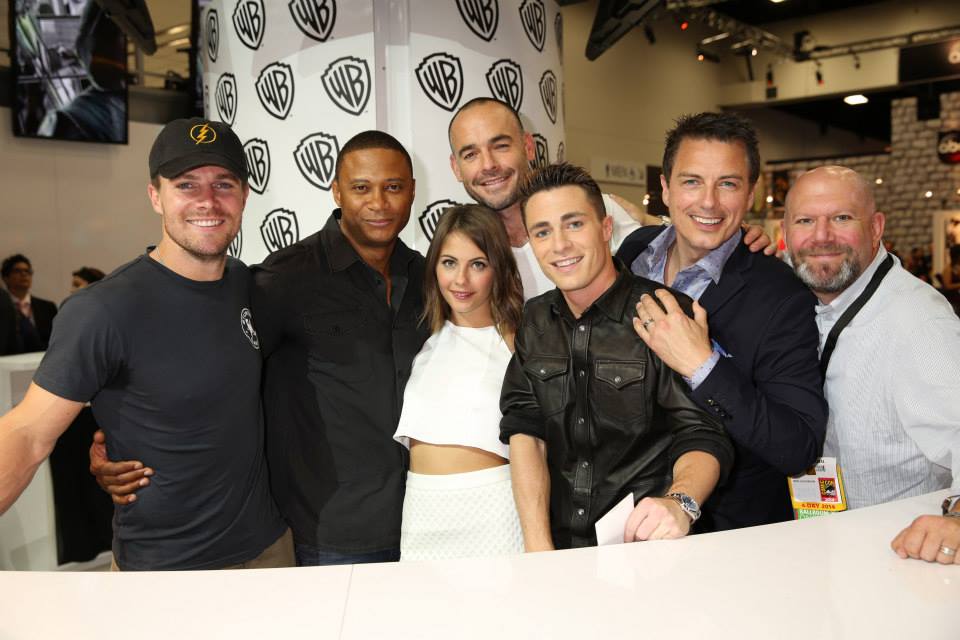 A handout photo provided by Warner Bros, Stephen Amell, David Ramsey, Willa Holland, Paul Blackthorne, Colton Haynes and John Barrowman, with executive producer Marc Guggenheim of "Arrow" attend Comic-Con International 2014 on July 26, 2014 in San Diego, California.(Photo by Michael Yarish/Warner Bros. Entertainment Inc.)
Season 3 of Arrow which will debut on October 8, will see Team Arrow enjoying a brief period of calm with then end of the last season. But according to the producers, this will be short lived owing to the new players, particularly Brandon Routh, who will play Dr Ray Palmer AKA The Atom, a long time member of the Justice League in the comics.
"One of the things we talked about a lot is that Season 3 is when a lot of shows bring on game-changing characters," Kreisberg said. "We were very conscious of making those additions this year."
Here's the explosive new trailer for season 3. The trailer begins with a small recap of last season, and slowly builds into a great look at what's to come. The trailer shows a look at Roy Harper in his Arsenal gear, the first look at Ray Palmer, as well as new enemies and the return of familiar faces